29.07.12 - MOHK, Ligita Zake
Exc, 3AKK Strong bitch, head with enough pronounced stop, muzzle long enough. Corr topline, broad body deep enough. Enough ang in front, corrr behind. moves ok. Corr temp.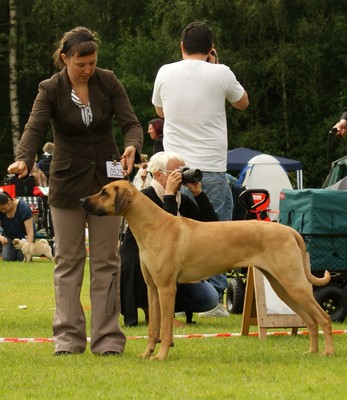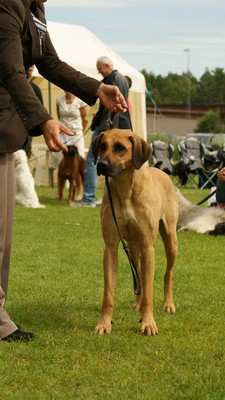 Elisabeth Aune Moseby
20.08.11 - NKK Bjerke, Natalja Nekrosiene
Exc, 3AKK 4 years. Good bone. Feminine head. Good under- and topline. Chest should be deeper. Well ang fr & back. (Don'tknowwhatitsays) coming and going, sideways movement well covering ground.
31.05.09 - NRRK Speciality show, Richard van Aken
2UHK Best Ridge!! 69 cm (Ouch, she's grown quite a lot over the past months! ;-)) Wheat, sl. long legs. Fem head, g lenght of neck. G topline, ang ftront/back same. G croup, g lenght of tail, nice feet. Well presented, moves free, little drive from back.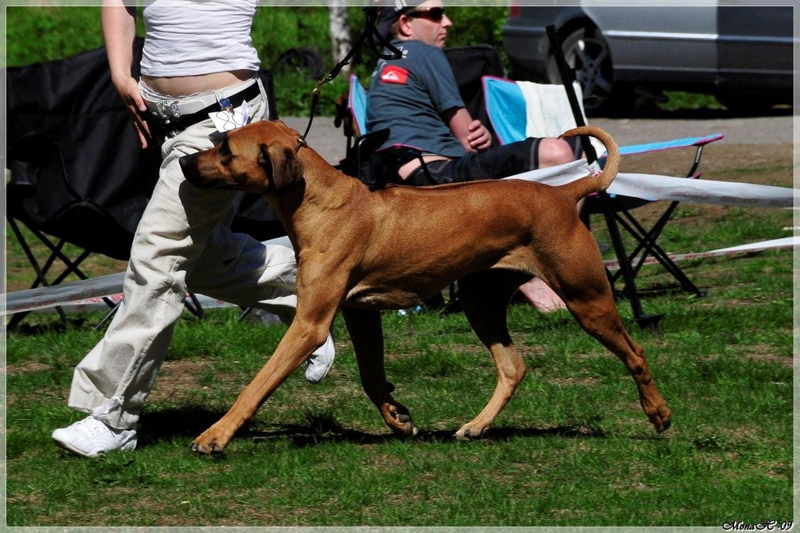 Mona Hansen
31.01.09 - Norsk Schnauzer Bouvier klubb, Rony Dodijns
1UHK, 2UHKK H: 64 cm (She's shrinking!!) Young bitch, needs time to mature. Corr bone and substance. Feminine head, could have had a stronger underjaw. Good bite and pigmentation. Needs stronger feet, feet are turning a bit east-west. Corr rear ang. Topline can be a bit firmer. Nice colour and cond. Needs to be a bit tighter on the move. Nice temp. and presentation.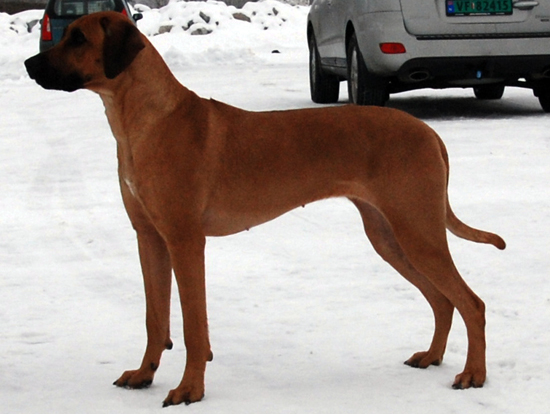 11.01.09 - Norsk Berner Sennehundklubb, Theo Leenen
1UHK, 1UHKK, CK, 4BTK 67 cm. 18 months. Well balanced. Corr, feminine head. Dark eyes. Compl scissorbite. Well set ears. Good neck, shoulder, topline. Corr ridge. Well angulated. Moving well.
10.01.09 - Norsk Dobermanklubb, Göran Bodegård
1UHK, 1UHKK, HP Very appealing bitch with nice lines and substance. 68 cm. Beautiful head, good neck and topline. Excellent front, could want a little more angulation in rear. Still light in chest. Moves very nice.
30.12.08 - Norsk Dobermanklub; Harri Lehkonen
1JK 68 cm. Pretty large bitch, very good type. Feminine head, acc angulated front and rear. Chestline needs more development. Corr ridge, good temperament and sound movement. Needs time.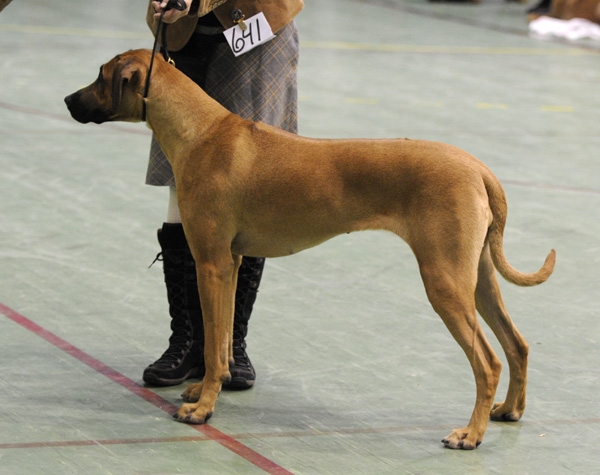 Photo Marianne Lund
Since I've had so little time to get to know and train with Dhamira, I'm extremely pleased over her enormous improvement in stacking and in general, this time she enjoyed the ring to the fullest and stacked beautifully and even wanted my treats! (Leftovers from Christmas dinner, so she'd better like them ;-)).
05.10.08 - NKK Kongsvinger - Denise Courtney
2JK Promising youngster who need ring craft. Lovely head expression, good bone & substance. Steady mover when settled. Presented well.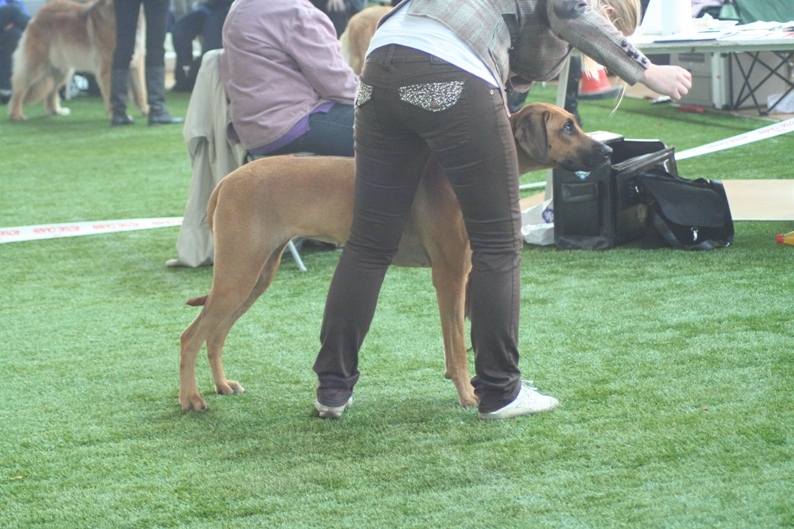 Photo G.T. Jensen
27.07.08 - Moss og omegn Hundeklubb, Gunnar Nymann
1JK, 1JKK, HP 11 months, large bitch, acc balance, lovely head and expression, corr bite, good scull, lean neck, could want better transition to shoulder. Would like more forechest, a bit straight shoulder. Ok in rear. Could have longer stride in the front, but good stability for her age, front and rear. Ridge and colour ok.
This was Naddes second time in the ring with me, still some things we need to practise but she stacked allright and the running was perfect in the competition! She was actually the overall best awarded Ridgeback today as no champion quality was handed out and the only honours prize went to Nadde so we're very proud of her.
28.06.08 - NKK Bjerke, Eva Borg
1JK, 4JKK (Nett?) bitch with feminine head with good proportions. Could have more powerful muzzle. Good neck and topline. Corr croup. Bones matching, well angulated behind. Straight upper arm. Good movements from the side but still not stable in front and rear.
I'm very pleased with this show for our young girl since this is her first show since february in puppy class and it is the first time she has been handled by me. She behaved great in the ring but was a bit unfocused and I could stuff my treats a certain place... She has beautiful movements and she stacks nicely although we have to practise a bit more on the handling part ;-) No pics unfortunately since I forgot nearly everything this day, I remembered my daughter and the dogs and was pretty happy with that. I blame it on the nice Norwegian excuse for breastfeeding mothers!