30.12.10 - Per Harald Nymark
1CHK, CK 3 years, 69 cm. very good, powerful male. Exc type, masc head with nice breed char. Corr placed ears. Very good topline and chest, solid bones. Shoulder a bit (fremskutt) otherwise good ang. Corr ridge, very good coat. Steady temper. Ground covering movements.
15.08.10 - NKK Oslo Double, Christian Jouanchicot
1CHK Size corr. Corr. type. VG topline. Exc box, crown and ridge. Corr neck. Very good head. Could have better earset. Corr front, exc chest. VG b.ang. Exc tailset. VG mover, could have more drive.
14.08.10 - NKK Oslo Double, Svein Bjarne Helgesen
1CHK 69 cm. Powerful male. Exc type and balance. Powerf. masc, well shaped head. Very good neck. Shoulder pl could be better. G ridge. Well bodied. Very good bone, nice feet. Norm angulations, good movem., could have longer stride.
18.04.10 - NKK Hordaland, Elin Normannseth
1CHK, 1CHKK, CK, 2BHK, RES CACIB 69 cm. Large male of very good breed type. Powerful, masc head, a bit too much cheek. Well developed body, nice and powerful bone. Well ang back, corr ridge, powerful movements from every angle. Beautiful coat and colour.
28.11.09 - NKK Lillestrøm, Norwegian winner, Borghild E.Moen
1AK, 1AKK, CK, CC, CAC, BOS App head and expression, good eyes and ears, good neck and posture. Well proportioned. Good bone, angulations matching. Should not be heavier in bone. Nice topline, good ridge, coat and colours. Moves efficiently. Well presented.
Not only did Isack get his championtitle this day, he also got the NV-09 title to his name and that was such a kick!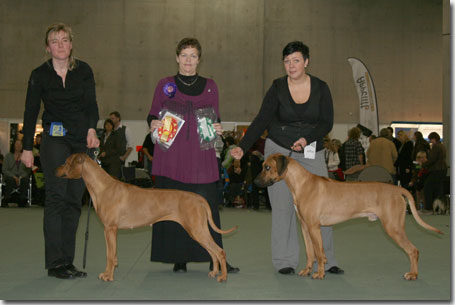 Photo Kennel Anzantra

03.10.09 - NKK Hamar, Elin Normannseth
2AK 2 years old, 68,5 cm tall. Could have had more symmetrical head and body. To course in head. Corr ears. Good bone, weak in pastern. Good neck, lacks forechest. Could have been longer in croup. Corr ridge with good lenght. Moves with slightly high movements in front. Nice temperament.

29.08.09 - KSS Drammen, Fernando Rodrigues
1AK, 1AKK, 4BHK CK 71 cm. A little high but well prop. Nice masc head, g neck, nice front. Very nice topline. Very g ang in the rear. A little long on body. Moves very well.
30.05.09 - NRRK, Richard van Aken
1UK, 4UKK 71 cm, well prop, heavy, reas topline, g length of neck. G ang front/back, brisket reaching elbow. G lenght of tail, g underline, well handled.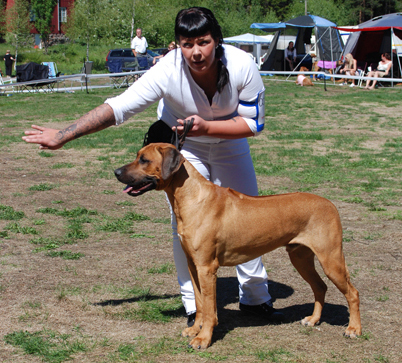 21.02.09 - NKK Bø, Matti Luoso
1UK, 1UKK, CK, 2BHK, res CACIB 68,5 cm, very good type, g bite, g head, powerful neck and bone, good feet, very good body, norm ang, moves well, nice temper, good ridge.
31.01.09 - Norsk Schnauzer Bouvier klubb, Rony Dodijns
1UK, 1UKK, CK, CC, 1BHK, BOS H: 70 cm. Very heavy and strong male with a lot of bone. Corr prop. Corr head profile, head could be a bit more refined. Very good pigmentation. Needs to get stronger in topline. Movement needs to mature. Needs to get stronger and develop more drive. Nice coat condition and color. Easy mover.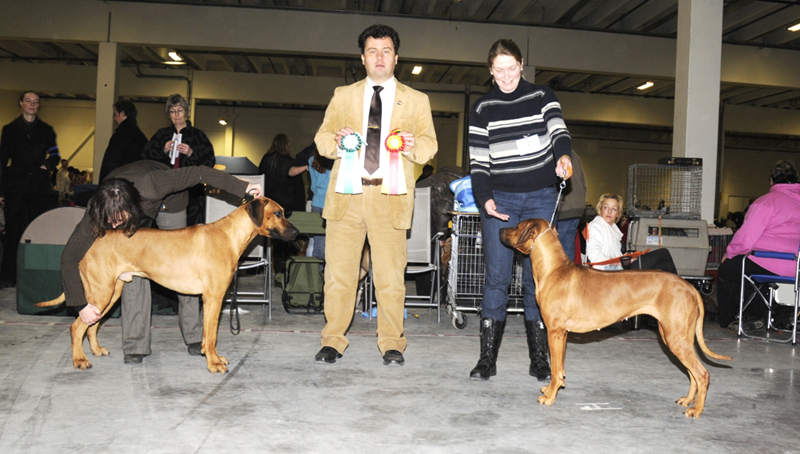 Photo Alex Lund
11.01.09 - Norsk Berner Sennenhundklubb, Theo Leenen
1UK, 1UKK, CK, 2BHK, CC 70 cm. 18 months. Very strong dog at the max of the standard. Strong masc head. dark eyes. Coml scissorbite. Well set ears. Good neck, shoulders, topline. Corr ridge. Chest deep and well ribbed up. Strong bone. Well angulated. Still loose in movement.
10.01.09 - Norsk Dobermanklubb, Göran Bodegård
1UK, 1UKK, CK, 3BHK, CC 69 cm. Powerful, masculine and well balanced.Very good muzzle. Good neck and topline. Especially well developed hindquarters. A little heavy bones. Excellent tail, movs very well.
30.12.08 - Norsk Dobermanklubb, Harri Lehkonen
1UK, 1UKK, HP 71 cm. Very typelike, large male, masculine head. Powerful bones and body. Corr proportions, good ridge. Still immature in temperament and movement, needs ringtraining.
Well, I can certainly agree in the last part ;-) He is so hard to handle as he is easily bored, and doesn't much appreciate treats when in the ring. But kind and sweet as ever, only not presenting himself to the fullest.. or at all ;-D
21.11.08 - NKK Hamar, Martin Croeser
1UK, 2UKK 69,5 cm. Nice size. A bit too heavy for me. Well shaped head. Nice eye. Little too much black on head. Heavy bone. Exc topline. Good depth of chest. Moderate hindquarters. G tailset. Could move better in front.
Very pleased with Isack and his new handler for the day, Isack didn't do much running in trot so he could have moved better all over I say ;-) Pics taken by GT - thanks!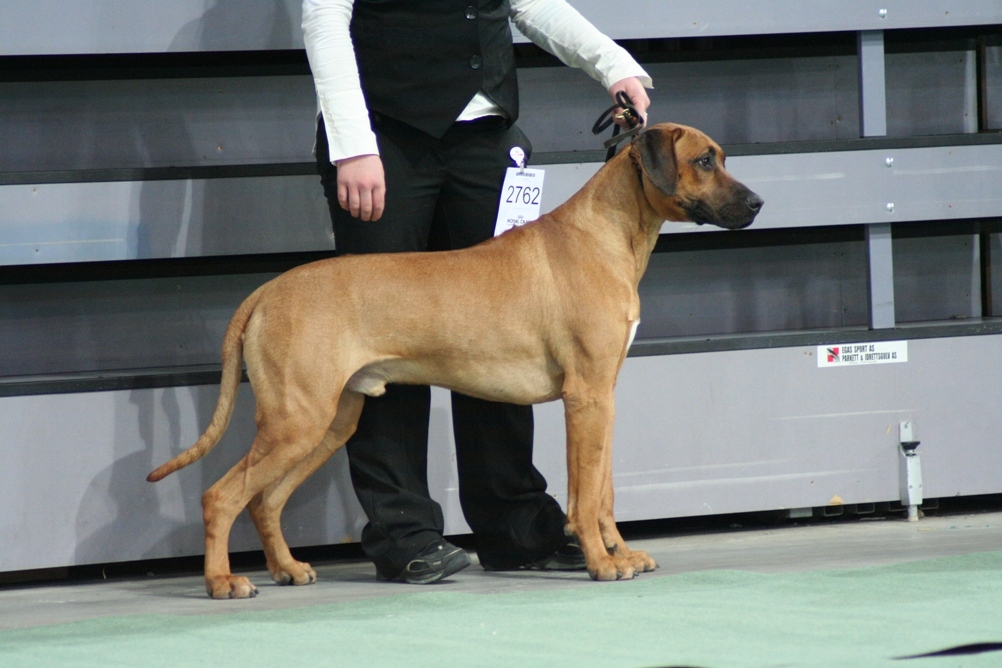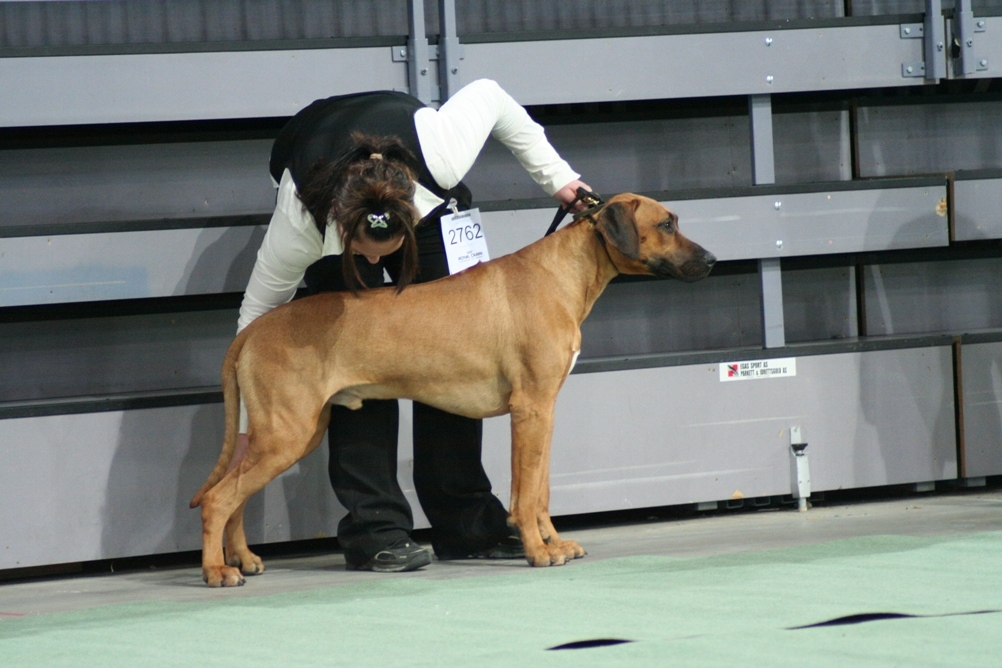 25.10.08 - Norsk Miniatyrhundklubb, Matti Luoso
1JK, 1JKK, CK, 1BHK, CC, BOS 69 cm. Exc type, good prop. Good muzzle, would like a bit better stop and expression. Powerful neck and bones. Good feet. Very nice body, norm ang, moves well. Good ridge, nice temperament.
Wow. We are SO pleased with our great boy today, can't describe it any better than wow! In the BOB competition it was too hard for a teenage boy to run with a sweet bitch up his ass, so the winner today was beautiful Diva, daughter of Ajabu's planned breeding partner Tuija.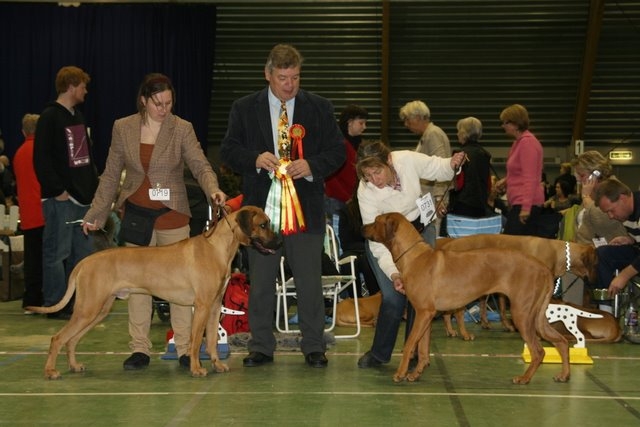 Photo Anne-Karin Rognerud
24.08.08 - Klubben for større selskapshunraser, Antonio di Lorenzo
1JK, 2JKK, HP 71 cm. Corr bite. Large size. Exc prop. Today a little bit tall on legs. Strong bones. Well ang of size and age. Exc croup and coat. Very good type in head. Needs time.
11.05.08 - Norwegian Ridgeback specialty show; Franz Zimmermann
1JK, resJKK, HP 9 months, very tall and strong. Corr outline, fitting bones, good head proportions, corr scussor bite, eyes a little bit deep positioned. Good chest depth and muscles, very good angulations. Paws not corr closed. Ridge with corr crowns, movement in corr line but weak in paws in front. Well - I just have to comment on this one... he has the strongest, closest paws I've ever seen on a Ridgeback, they're big and very strong so I'm not sure what the judge has seen.. ;o)
10.05.08 - Norwegian Ridgeback specialty show; Liz Megginson
1JK, 4JKK, CK Strong male with good bone. Good topline. Moves very well. Nice ridge. A little heavy in head.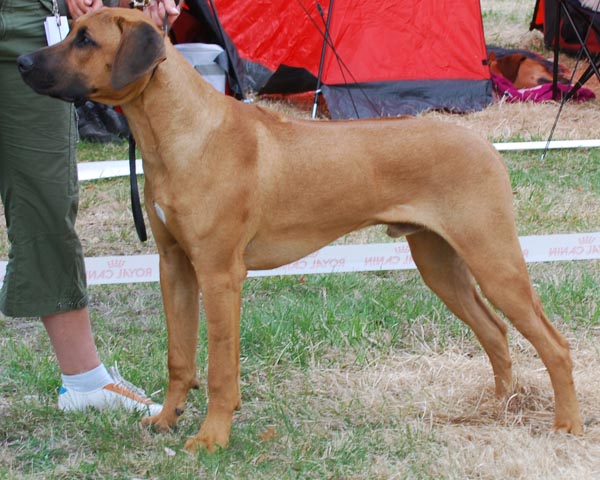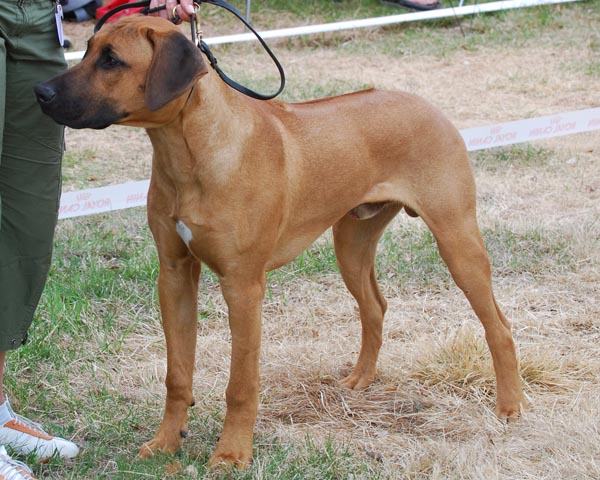 Photos Mona Hansen