This year, as last years Norwegian Championships, Bjørn wanted to split the team into two, and make me (Kamilla) race one team, so that they are all prepared for the following races in the season. As I'm not that into competing, have not been on a sled since last years race (even though I have ASKED nicely to borrow some dogs for a run, since I had to put down Irish this summer - but they all either have been trained, are about to get trained or must have rest every time I ask.. I haven't had a cart for off-snow training with the ridgebacks and pointer since last fall, it beeing without proper brakes and the mechanic not willing to spend time on fixing it between fixing and destroying his new car. And when I was desperate enough to consider training Bjørns puppies with bike, he ruined my bike as well, jumping on it with HIS cart, using it as brake pad. The whole story here...)), and I have puppies, horses and plenty of other things I rather want to spend my time on than standing on a sled for one and a half hour with snow and poop gushing from running dogs, I only agreed on the premises that the new car, with room for all the dogs, Ridgebacks and German Pointer included, was finished and that we took that car and the caravan, and spent the whole weekend there, so that we didn't have to get up before the birds go to bed every morning and drive up to Hamar and back home each day. Plus that I got to pick my own team from all the dogs!
Well - what happened?
The car wasn't finished, we had to use the old car, no caravan (which we almost didn't get home from the stable where it has been parked with the brake on since May...), no sleeping over, up at 5 am all weekend.. But I got to pick my own team, and the Ridgebacks and the German Pointer tagged along (not IN the race, but in the car ;-)), and I even picked the best team on Saturday!! 11 seconds down to second place (Børge Sagstad), and another 16 down to Bjørn - guess who was surprised when he arrived at the finish line and I was already there - he had run the whole race thinking I had turned wrong somewhere since he never caught up with me ;-D His actual words in the car on the way up Saturday was; "It doesn't matter so much which pair of lead dogs you use since you're the first one to start, you won't pass any teams, just be overtaken!" Eat shit, you arrogant pri..!
But, since we only have thirteen racedoogs, there were no dogs in my pool (I actually had Dawn, mother of this years litter, signed up in the pool, but she has only run a few kilometers with the puppies this season so it was just to have equal number of dogs on the paper as Bjørn ;-)), the dogs were tired Sunday. In addition to this, Bjørn had convinced me to bring Minnie day two as well, even if I thought she looked too tired on day 1, but he said that was normal behaviour for her and that she would be just as happy to run the distance day 2... Which she wasn't, she was not pulling anything, only hanging on the lines and making the other dogs work on her weight as well.. So, his plan didn't work very well, I managed to hold the two guys behind me 3/4 of the way, but then they passed us and when Minnie had to be put in the sled, we were cruising in the last kilometers so that every dog was happy crossing the finish line. So 1st place to Bjørn, 2nd to Børge and 3rd to me. (Full results here!) And the prize ceremony was scheduled to 16.30, we started 0900 and was finished with the dogs 1100, so we thought we should visit poor Disco not far from the arena before the prize ceremony, as he fell on the ice and injured himself before the weekend. And then be back at 16.30. We visited Disco, who looked much better today compared to yesterday (he injured himself Tuesday so it was quite a fall!), took the dogs for a walk in the fenced in woods at the stable, and was back at 16.25. But what had happened? The prize ceremony was re-scheduled and everything finished.
What a disappointment - probably my first and last time on a podium, and with an undischarged kiss from a well known Norwegian musher from last years prize ceremony, I was literally cheated of both!
The team both days, this photo from Saturday. Nora and Idun in lead, Rino and Cheetah in point and Dolly and Minnie in wheel (see the funny coincidental pairing? For those not Norwegian, Idun and Nora is the brand name of two companies producing semifinished foods in Norway).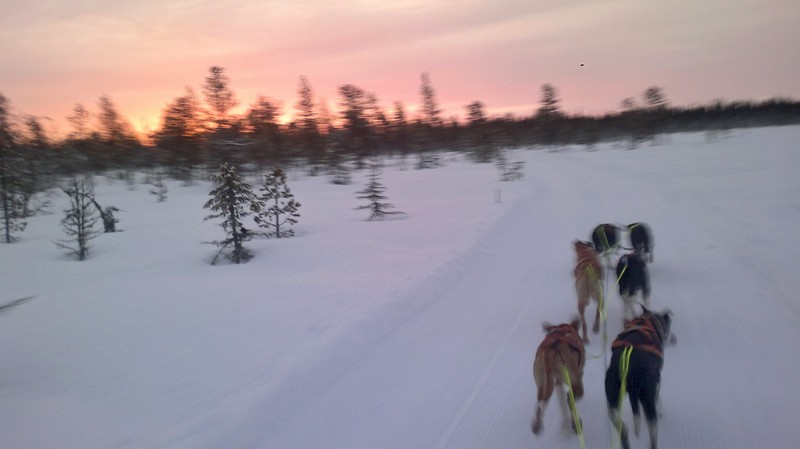 Into the sunrise, Saturday ;-D
Rino and Cheetah was the very best dogs Saturday, and on Sunday, Rino impressed very much, finishing as the dog with the best stamina, even though he is the oldest dog on the team, has been trained for unlimited sprint all his life, and has only been in Norway since this fall. He is imported from Alaska, from Egil Ellis, thanks a million for this fantastic dog! With a work ethic any one can envy, appetite not any dog can match and problem free being, he will be a very valuable asset to our breeding programme, for sure! And for racing as well ;-)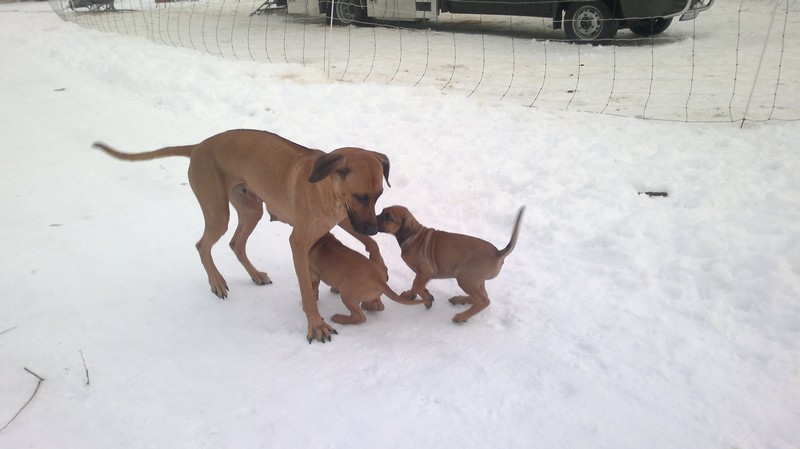 Three Ridgebacks having fun Sunday.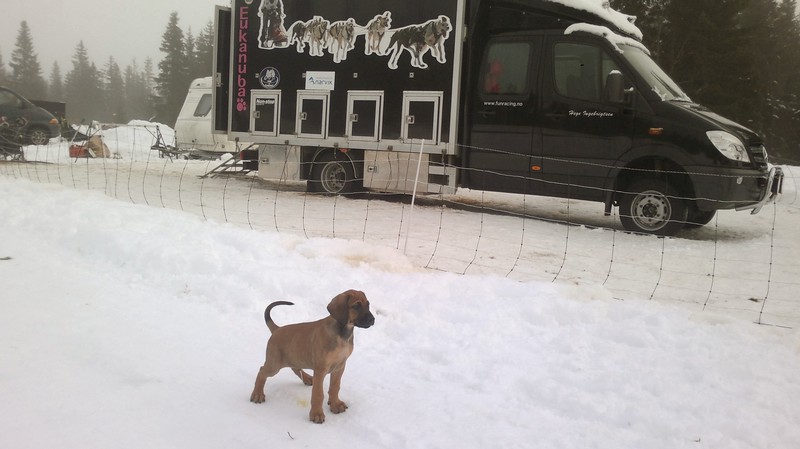 Small boy with fast idols - in front of the car and caravan of the leading sprint musher and co-owner of Rino, Hege Ingebrigtsen. Not quite lifting his leg yet, but quite cocky still ;-)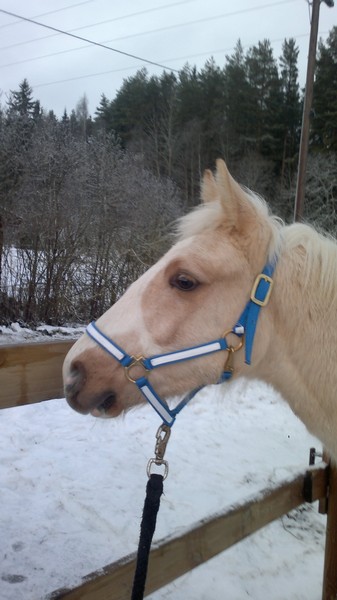 Hondo at Hamar and Disco at home!