I entered Binti in puppyclass with little to no expectations as there have been a lot of litters this winter and spring and plenty of nice pups around.

But as it is good training for official shows later and the humans involved have a nice weekend socializing with people who have the same interest I decided to take the trip this year. And I do not regret my descicion now ;o)

I was happy to hear that Ylva who owns Bora also had entered him in the show and as they live nearby we were invited to stay the night and drive to the arena together.

Bora or Devil (suitable name by the way!) and Binti had a blast friday night chasing eachother around the garden. It was nice to see how he has developed into a balanced youngster with a charming attitude!

Saturday we tried to get to Lövudden quite early so that the dogs could get used to the surroundings, but in the end we were there just in time to see the first puppyclass enter the rings...

Rex Ventors Maddox was BOB 4-6 months with litter sister Mea Adorea going BOS - congratulations to both of you!

Then Ylva and Devil entered the ring and with great style they were placed first in their class!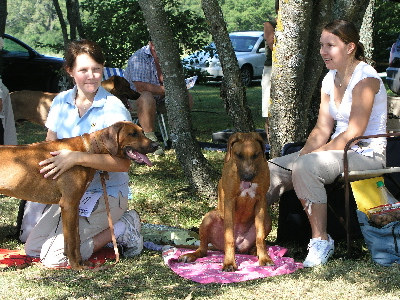 Waiting for the class to begin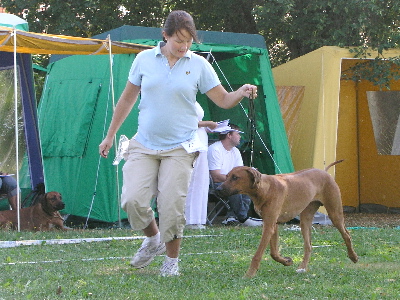 Ylva and Devil in the ring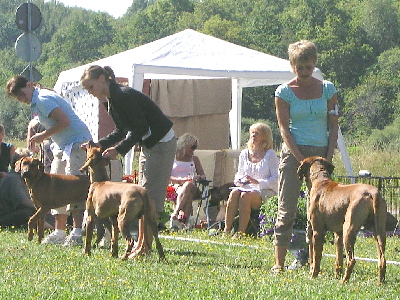 Male puppies 6-9 months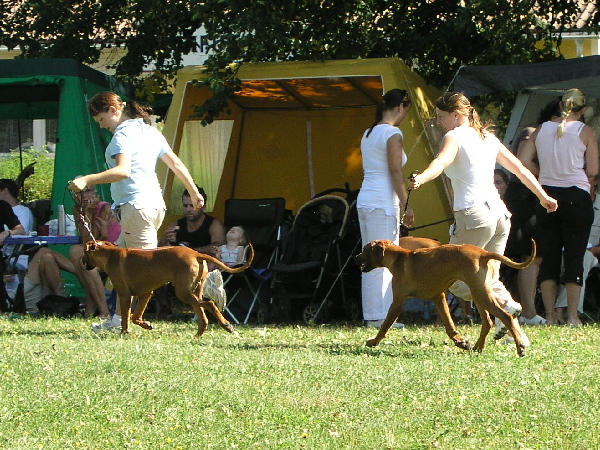 Running for BOB and BOS 6-9 months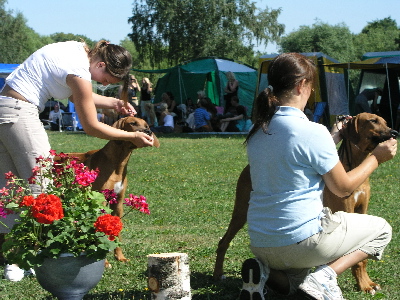 Devil and Binti in front of the judge
I was so happy about their win that I almost forgot to be nervous myself and so Binti and I entered the ring more happy than anxcious (at least I was!)

Binti is a real pleasure to show as she is very calm and attentive. Is was really hot this weekend though, the heat was exhausting and she soon decided that she had enough treats for one day...

I struggled to keep her head up both standing and running as the treats didn't help to get her attention but she has a beautiful stride and we managed to find it afterall ;o)

When the judge pointed at us and placed Binti as number one I almost could not believe it, and it was unreal to run for BOB and BOS with two puppies from my own breeding competing against eachother! At that point it didn't matter which puppy who won but the judge placed Binti as BOB and Bora as BOS.

So we had to stay in the ring, competing against RV Maddox for BIS puppy and to top off the day the judge once again picked Binti as the winner - a real thrill to me!!

Huge thanks to Ylva's mum and Gunn Tove for using the camera, holding dogs and beeing of general assistance and to the Norwegian supporters Linda and Bente!