HD: A/A
ED: 0/0
Full dentition, correct bite
EOAD: Clear
At six months, 58 cm and 27 kg
At eight months 63,5 cm, 34 kg
65 cm, 37 kg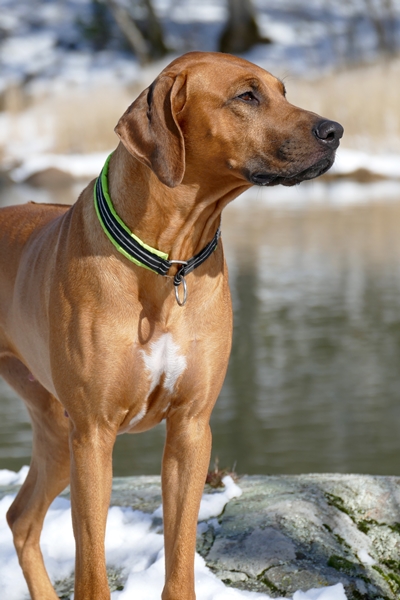 Tia 2015. Photo Anki Åkenes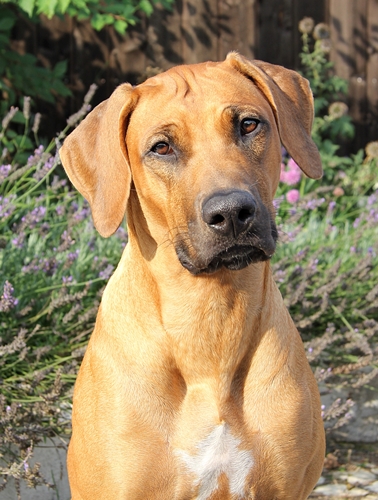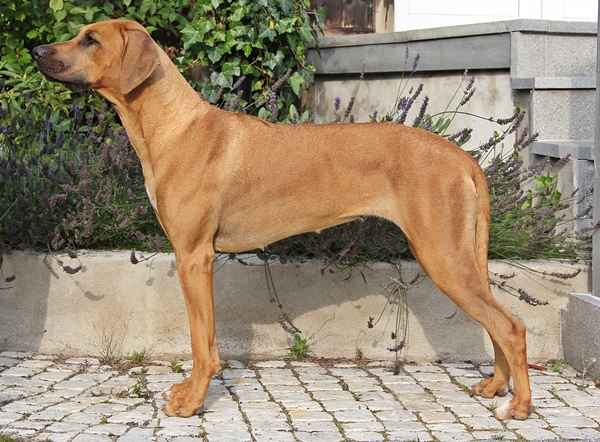 Tia 2014. Photos Maria Kierkegaard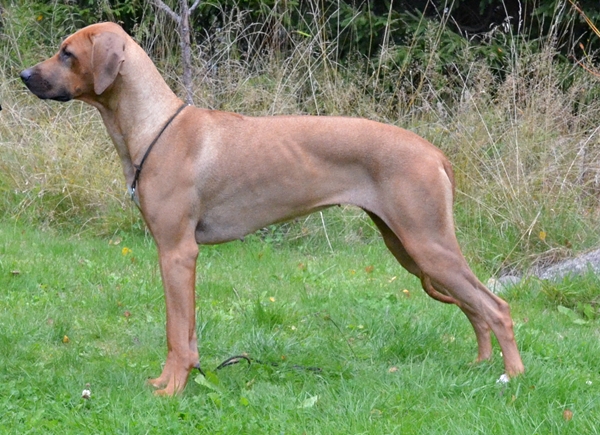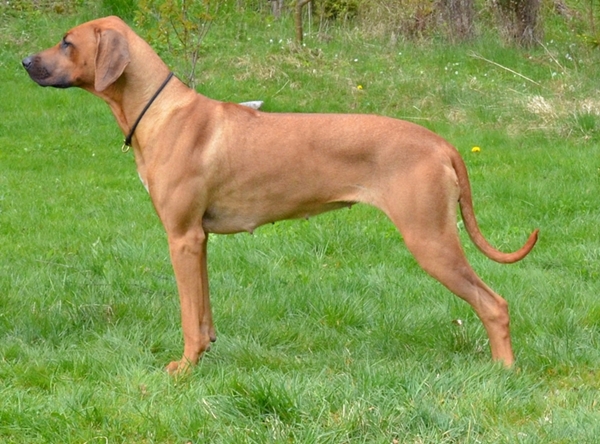 10,5 months old!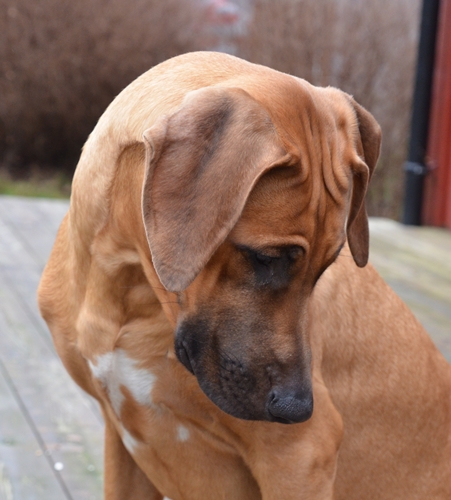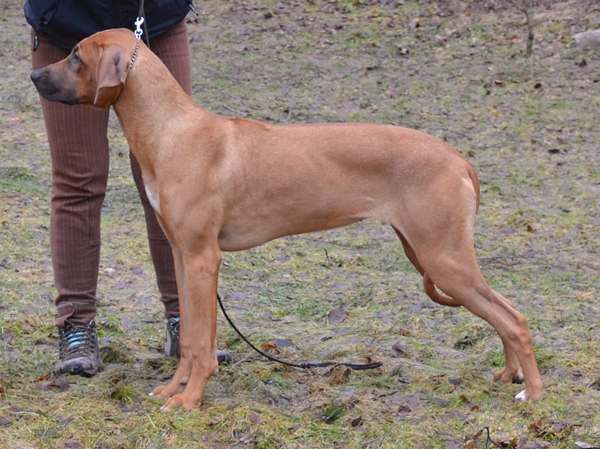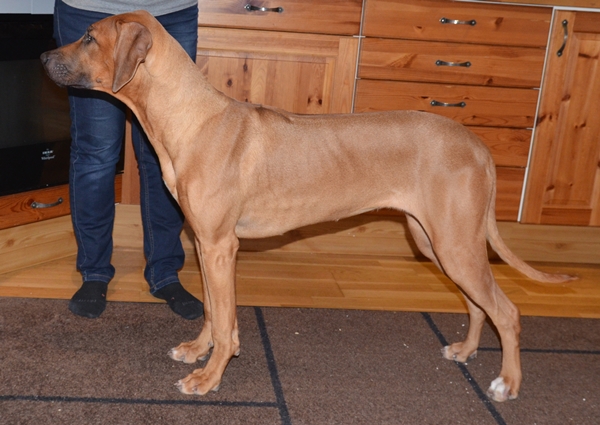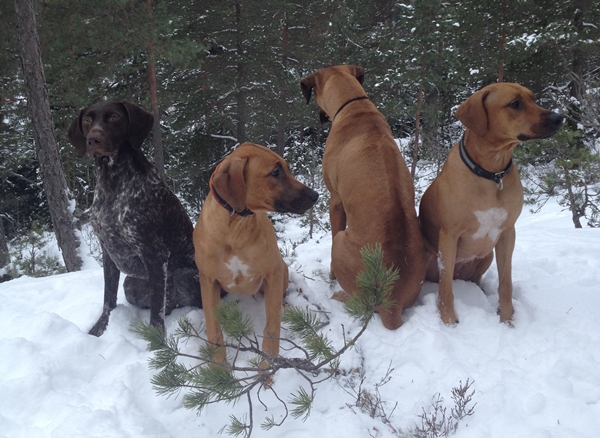 Tia #2 from the left ;-)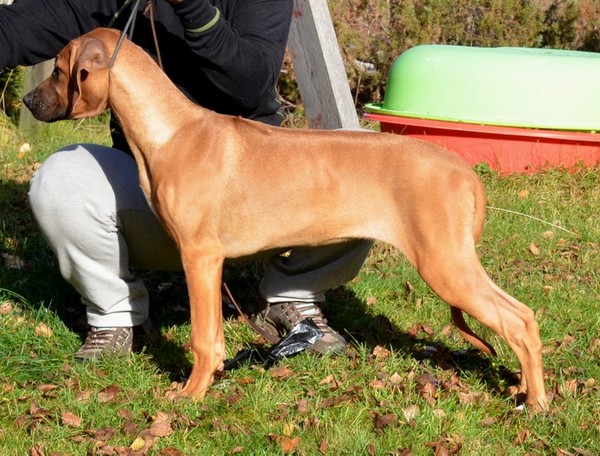 4 months old!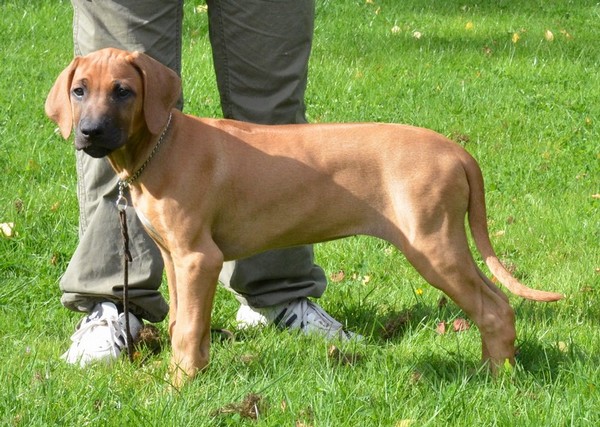 11 weeks old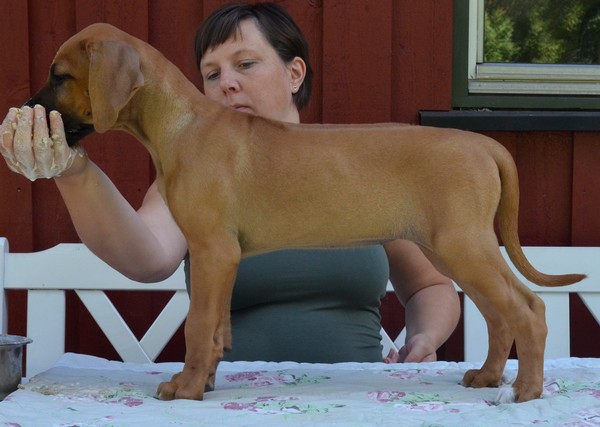 8,5 weeks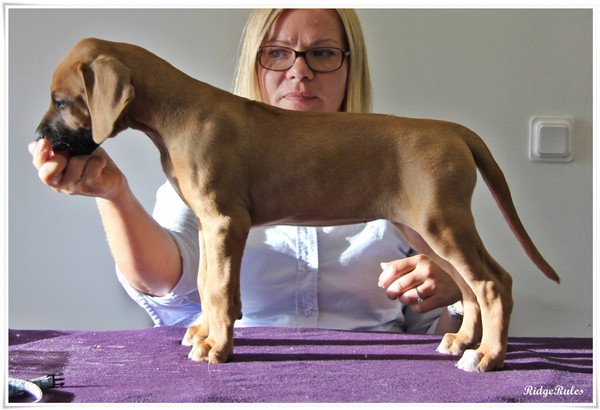 7 weeks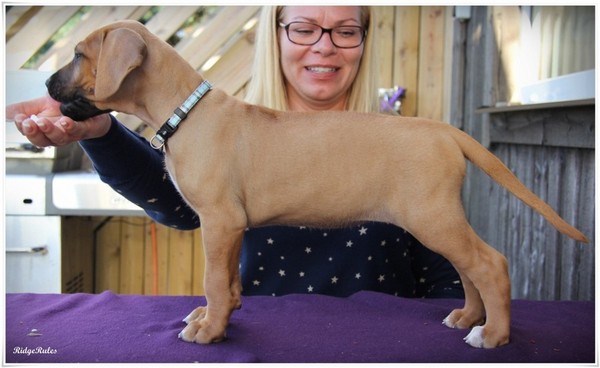 6 weeks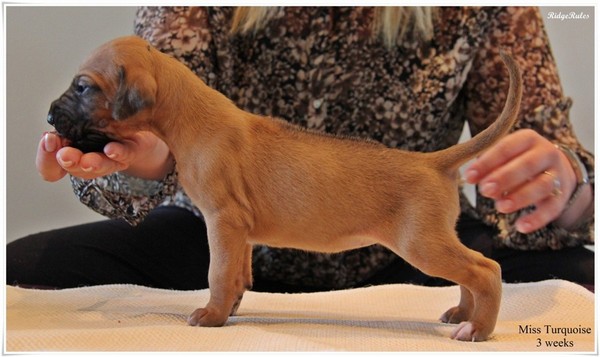 3 weeks
We welcome Tia to our pack!
Tia happened as a consequence of shortage of self-discipline combined with an impulsive nature ;-)
When I saw the first stacks of the Treasure-litter, I immediately fell in love with her. I sent Maria a mail, letting her know, in a facetious way, that this puppy could come and live with us any day, knowing that she would probably be one of the first to be homed.. Some weeks later, I saw new photos of the litter and to my big surprise, she was still available.
Well, the fact that I know and love her mother, her grandfathers on both sides and that her paternal grandmother is a sister of Wasco, a sire I have included in my lines both trough the Etosha-litter and trough BB, combined with the fact that she had this spark I just cannot resist in a ridgeback puppy, Su and I travelled to pick her up when my master thesis was finished. Finally, I have a little piece of Argos, a male I have wanted to include in my breeding programme for years due to his wonderful mentality.
I hope Tia combines her ancestor's great mental characteristics and sweet personalities in the best way, then she will suit us just perfect!
As a puppy, she is very independent, very easygoing and has taken every challenge thrown upon her, so we have high hopes for the future.
As an adult, Tia is the calmest, sweetest and most affectionate ridgeback I've ever met. She has never destroyed anything, she is nearly silent (except for a few alerts when there is something to alert us about, there is no complaining in her) and she is absolutely amazingly loveable. Her courage is a bit low, and her curiosity too, so she has a habit of waiting for us in the car if something happens at the stable with the electric fence for instance, and the car is open ;-) We had to abort her BPH due to the presence of Hija and her owner, whom she wanted to join, and the MH too - our car was parked with the door open near the test field... Luckily, very few things scares her, she is a very unafraid type of dog, very cool and has little fear in life. Ghosts and metal figures/overalls only live in Swedish forests! ;-D
Although we love her deeply, she has made it totally clear that she loves her weekend family more than us (Hija's owners have lent her quite a bit, they find it too boring with only one ridgeback in the house ;-)). Upon her returns here, she does not eat and she is really blue for days. So, we had to make the hard decision to let her move to her favourite family, and she gave herself to them as kind of a wedding present really ;-D
We know that we will see her very often, and that this is her own choice, so there really was no other option.
We will miss you, sweetheart!