Hasselsnårets Norma Jeane Baker
X
Masithela's Einherjer Fåvne
HD-A AA-A
DM - clear/noncarrier
Eyes clear, full dentition
68 cm, 38 kg
Binti was the pick of the litter and originally I wanted to place her out on breeding terms. As I didn't find any suitable home for her at that time, she stayed home with us but had a very good second home with my cousin and her boyfriend on a regular basis. As time passed, they realized that they actually both had the time and the space to have a dog of their own (since they both grew up with dogs they knew that some time in the future they'll have one too) and asked me if there were any chance they could have a puppy from Binti. Well - knowing that they really love Binti and that I couldn't promise any puppies from her in the immediate future we actually gave them Binti instead!
This was surely a great arrangement, Binti already being used to living with them for weekends and in holidays and the three are a match made in heaven. We miss her here at home, but she doesn't live far from us and we can see her any time we like. And we still have the possibility of having puppies from her in the future so we're all happy
(except for Gelo who lost his girlfriend ;o))
Binti is the sweetest character on earth, lovable and affectionate. She's very easy going and very dignified with the true Ridgeback spark.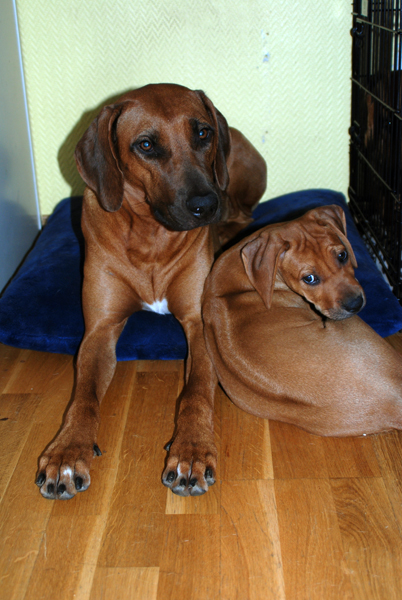 Binti 1,5 years and little Chambo, eight weeks.