June 2007:
*Mitra (Bintu) from our Bwindi litter har startet a very promising career as a tracking dog - on bears! The Ridgeback beeing bred as a Lion dog at first, we had high hopes that this trait would still be evident in the modern Ridgeback, and so it is!
Silje, Mitras owner is currently in Sweden doing the fieldwork for her master degree on the behaviour and movement of bears and in order to do this she has to track the bears accurately to get a complete picture of their whereabouts and doing. She has several people from the SNO (Swedish nature ranger association) with their dogs to help her track (it was only ment for Mitra to come along to try tracking) and to date Mitra has done the best job following the track with total perfection and concentration even with lots of other game in the area! One of the most experienced bear tracker in Sweden describes her as very talented and with great potential and that really is a compliment coming from him ;o)
Here's some pics of Mitra in action, courtesy of Silje Vang: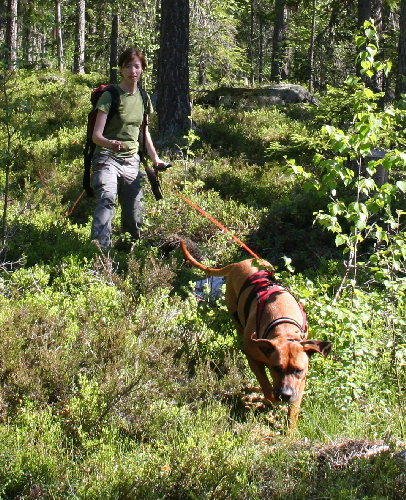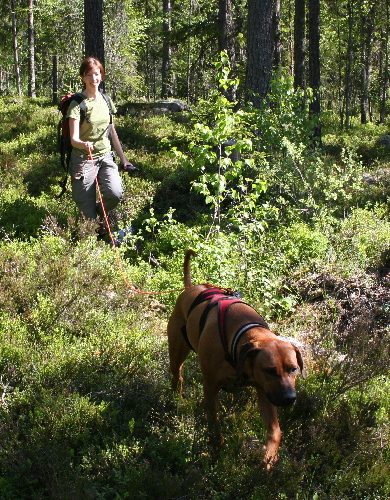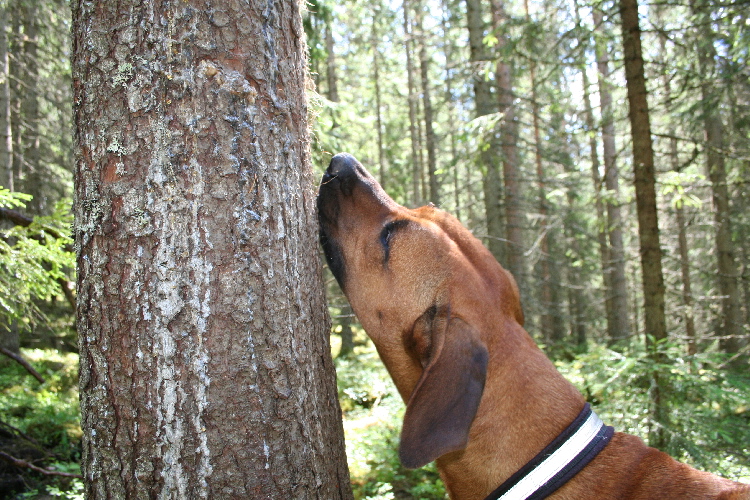 Here Mitra is marking a tree that a bear previously has rubbed himself agaist - check out all the hairs just over her nose! Silje writes that when tracking bear and other predators the dogs have a significantly different body posture than when tracking other game - they are very aware of their surroundings, have a lower tail and slower pace than usual. But just as her mother - Mitra is driven by her curiosity ;o)
March 2007:
* I was looking for some nice photos of the sleddogs when I stumbled upon this one, and I just have to show you: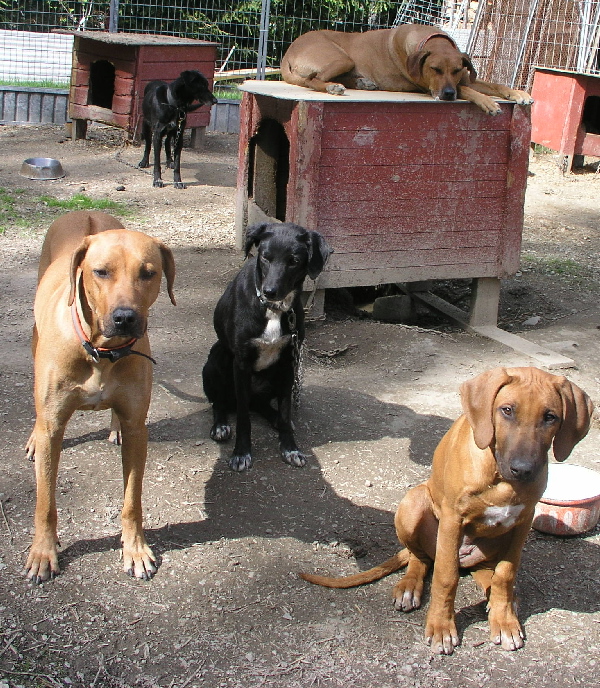 Binti once was this small ;o) And check out Tamio on the doghouse, she's a Real RR - no sleeping on the ground!
* This little missy needs a name - nice suggestions appreciated! I just couldn't resist photo #2, it probably has to go as soon as he sees it but until then - enjoy the two sleeping beauties ;o)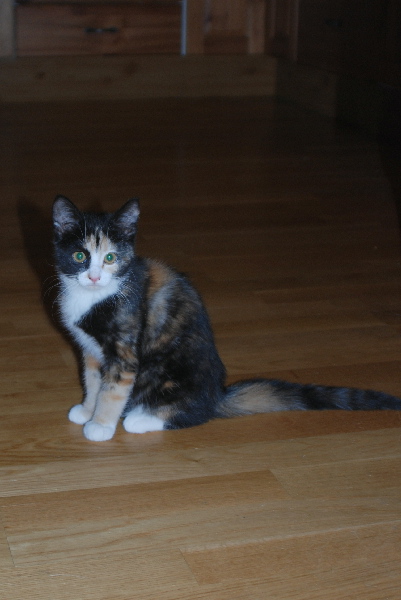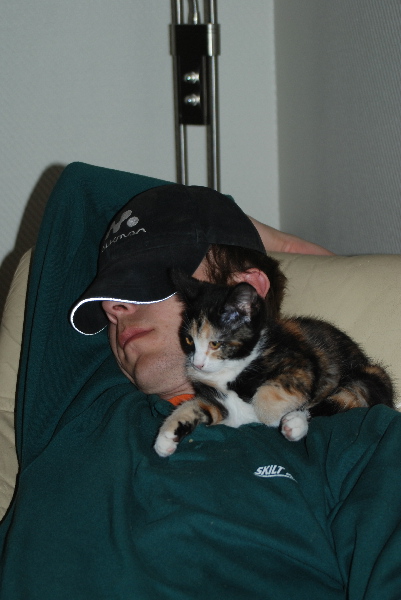 February 2007:
*Baileys, Buffy, Tiger and Twist took me out for a trip on Langen today, here they are when we've arrived back home: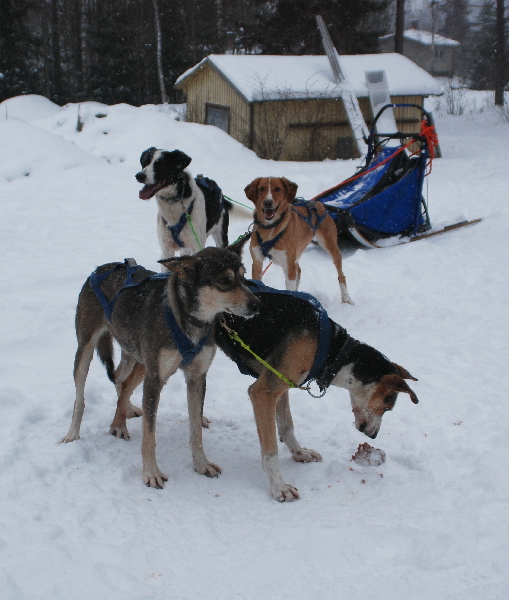 I'm glad I had Baileys with me, as Buffy really is a daddy's girl and went completely deaf when I tried to give directions out on the large ice on Langen.... It was a nice ride though, a beautiful team and lots of power ;o) Check the dogs out at their page if you like to!
* Aisha turns three years old, this is from her party with her new "sister" Milla: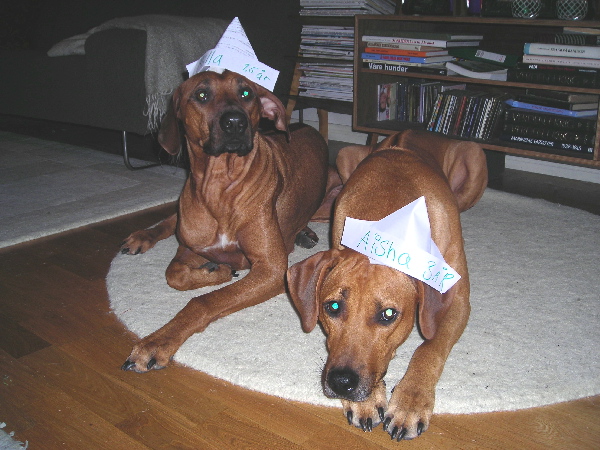 January 2007:
Gelo has to come with me to school today as we're heading by the vet to have his deworming done, but it's minus 21 degrees outside (celcius that is) and poor Gelo has only brought his summercoat from Denmark.. So in order to keep the little boy warm enough I had to part with one of my favourite sweaters made of pure wool: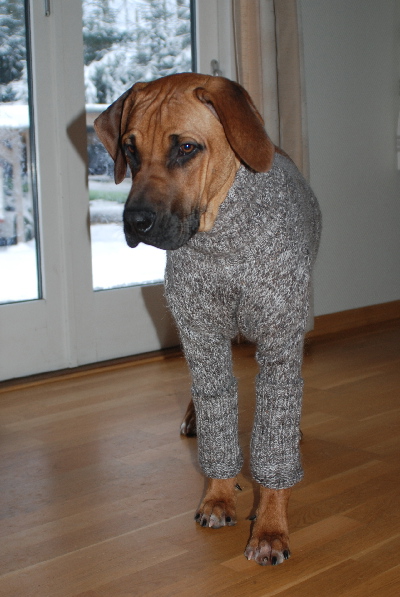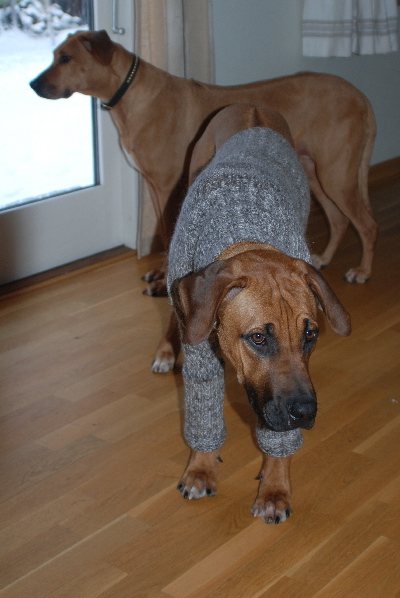 December 2006:
We have Tarah over for the Christmas holidays and she has settled very well in with her sister and mother! It get's a bit crowded when they all want to share the same bed - there are two similar beds next to eachother but one is sufficient according to the dogs: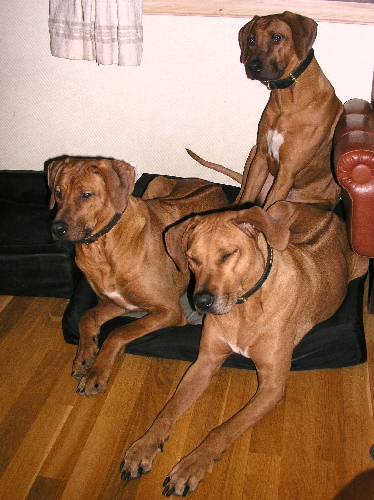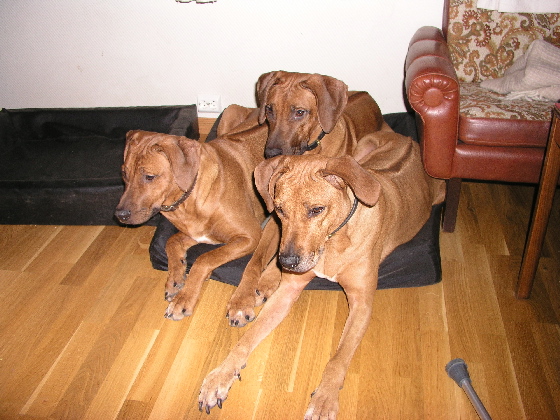 "Hey girls - make some space!" "What - I haven't gained any weight this Christmas!!"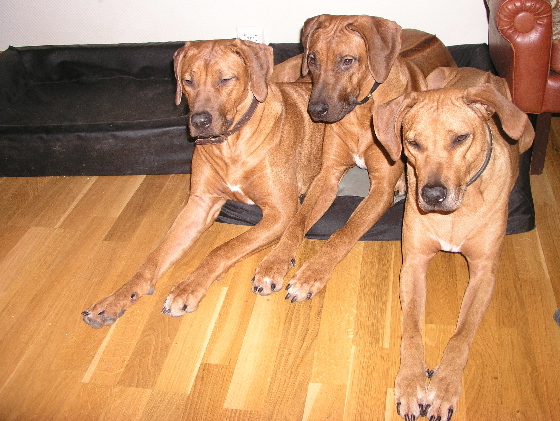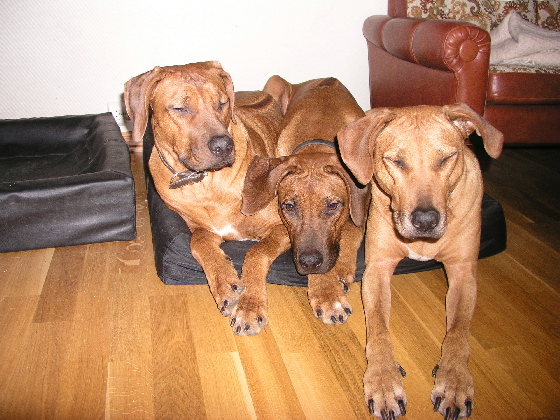 Three pretty girls! Binti trying to act tiny....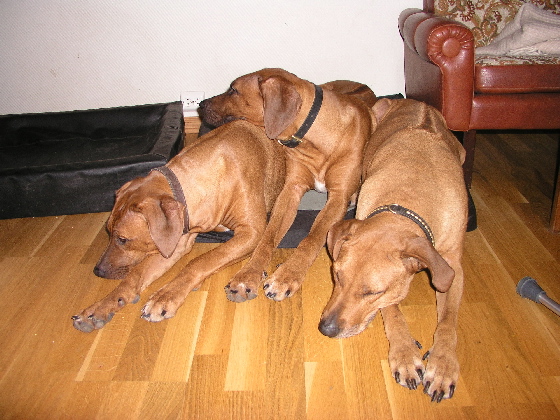 But I think they all enjoyed it afterall ;o)
November 2006:
Jo-Ann is trying to keep the dogs out of her sofa - here you can see for yourselves how much Gelo cares about that...: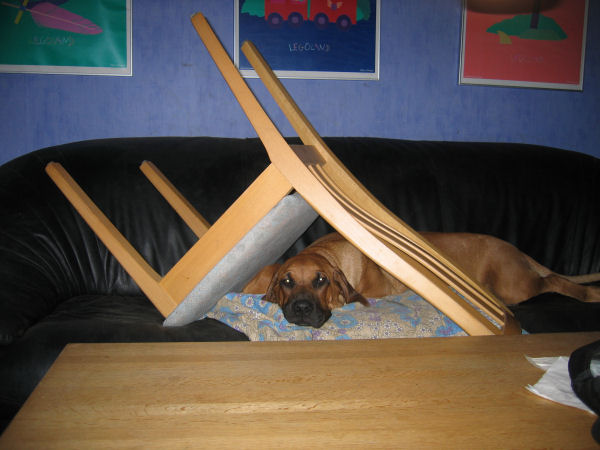 October 2006:
Aisha, Binti and Tamio early October, waiting for a treat or two...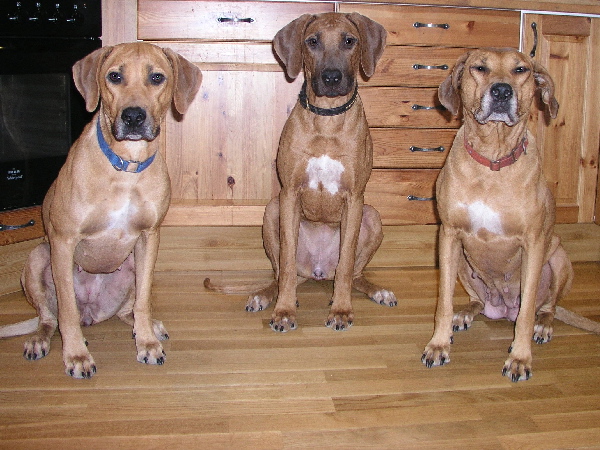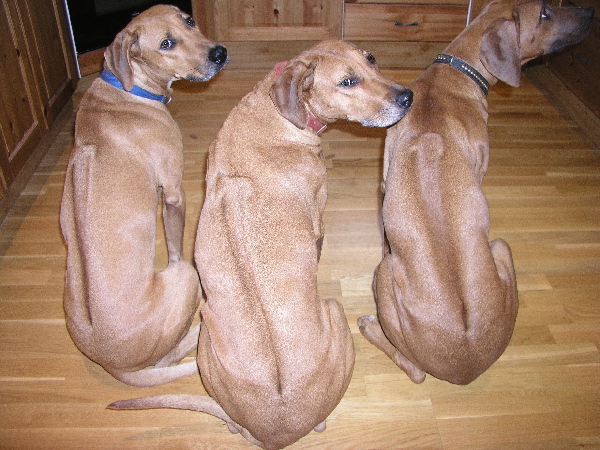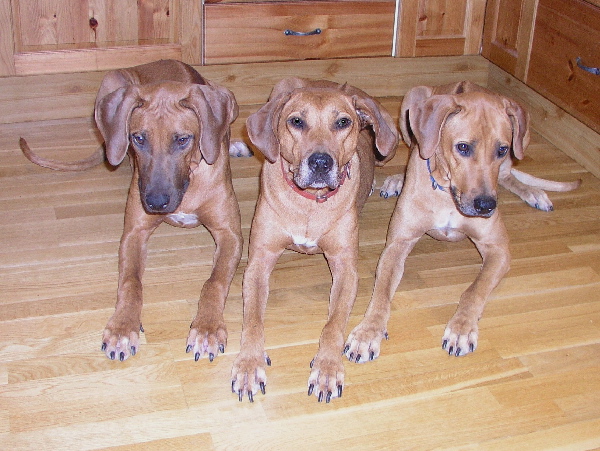 "Can we pleeease have that treat now?? Prettyplease???"
The three sweetest girls ;o)
September 2006:
* Jo-Ann sent me some photos of Gelo and his father Auri: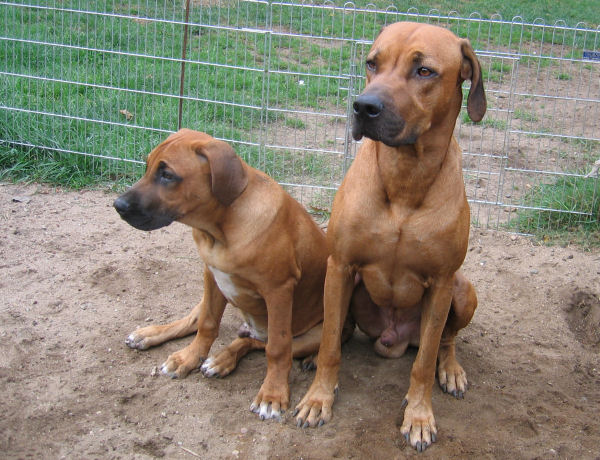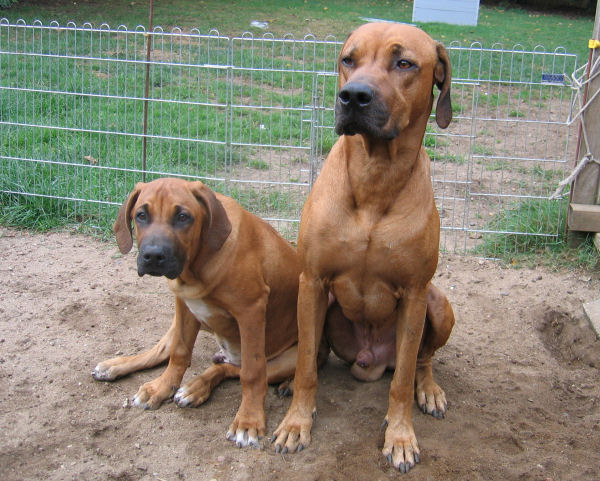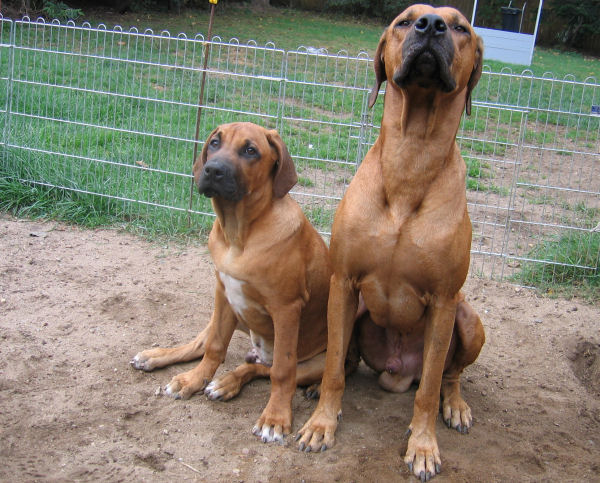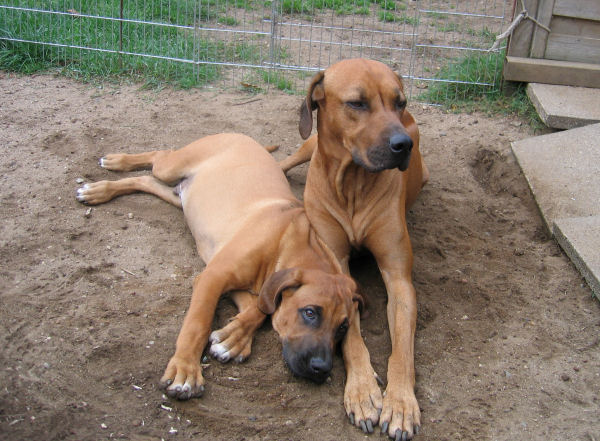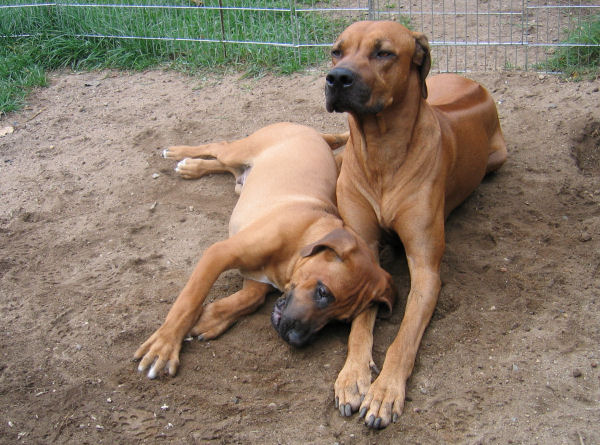 * I'm off to Denmark to meet this little fellow - more to come shortly!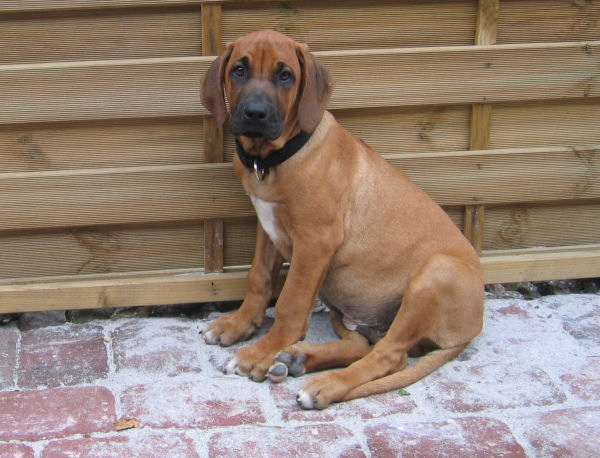 June 2006:
* We went to the Norwegian Ridgeback Specialityshow, Binti placed second in the 4-6 months puppyclass. Unfortunately we have no pics from the day, but here are some fresh stacks of our three girls from this week: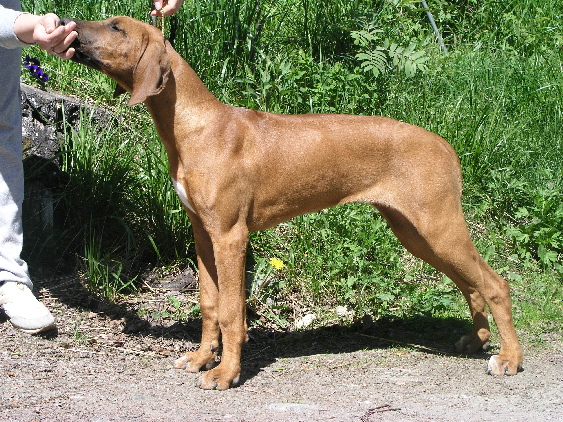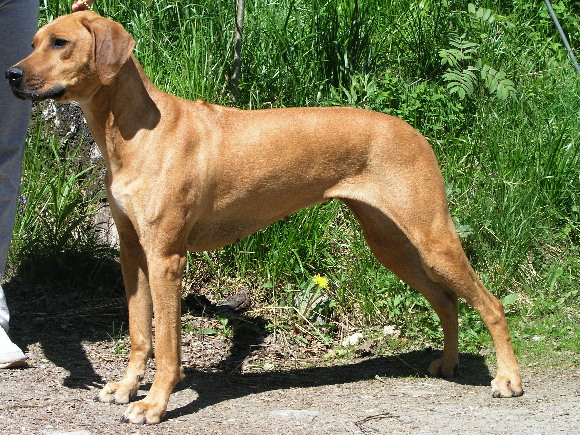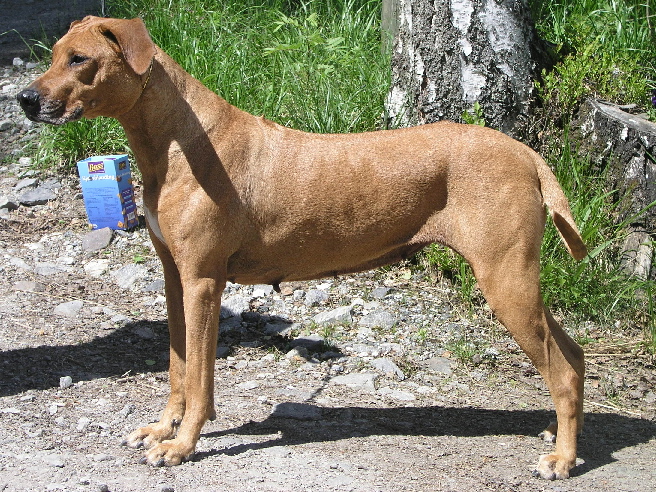 May 2006:
* Now all the puppies have left for their new homes and the only one left is Bintiye. The Bwindi-pups will have their own pages shortly, I am working on it!
April 2006: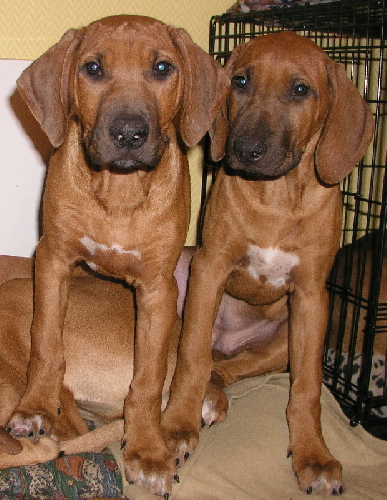 * We had Ella the Dalmatian over to visit this weekend - she is the best auntie for the pups and she really adores them! Here are some pics of her and Aisha (there was no pictures of Ella and the pups as they always rushed past in a hurry...):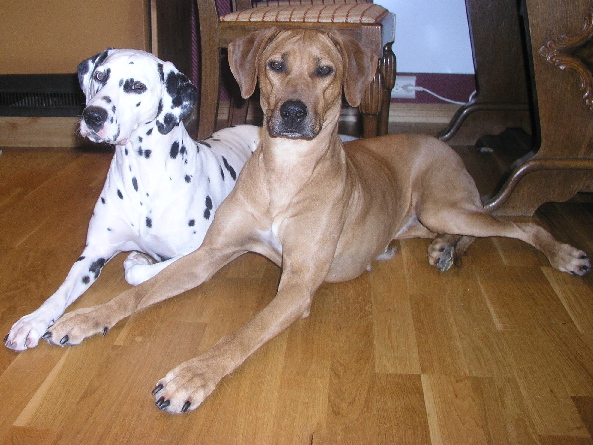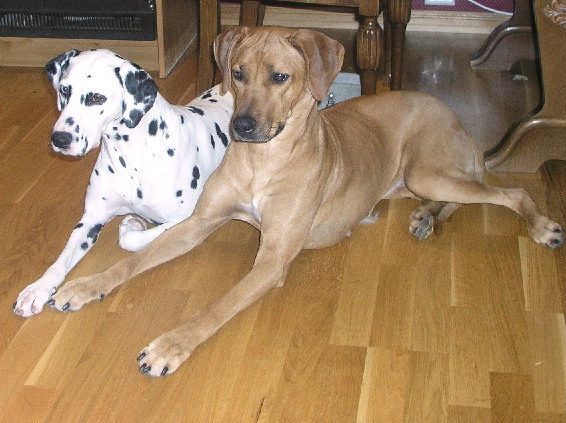 March 2006:
* We already have a tv-star from the Bwindi-litter! This little guy is starring in a new show for kids on NRK in the fall. Watch this space for further info!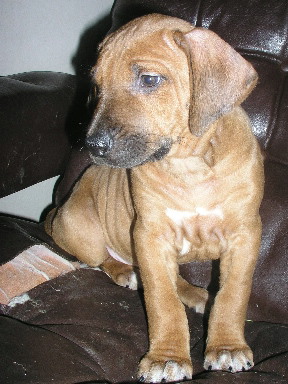 January 2006:
*My girls!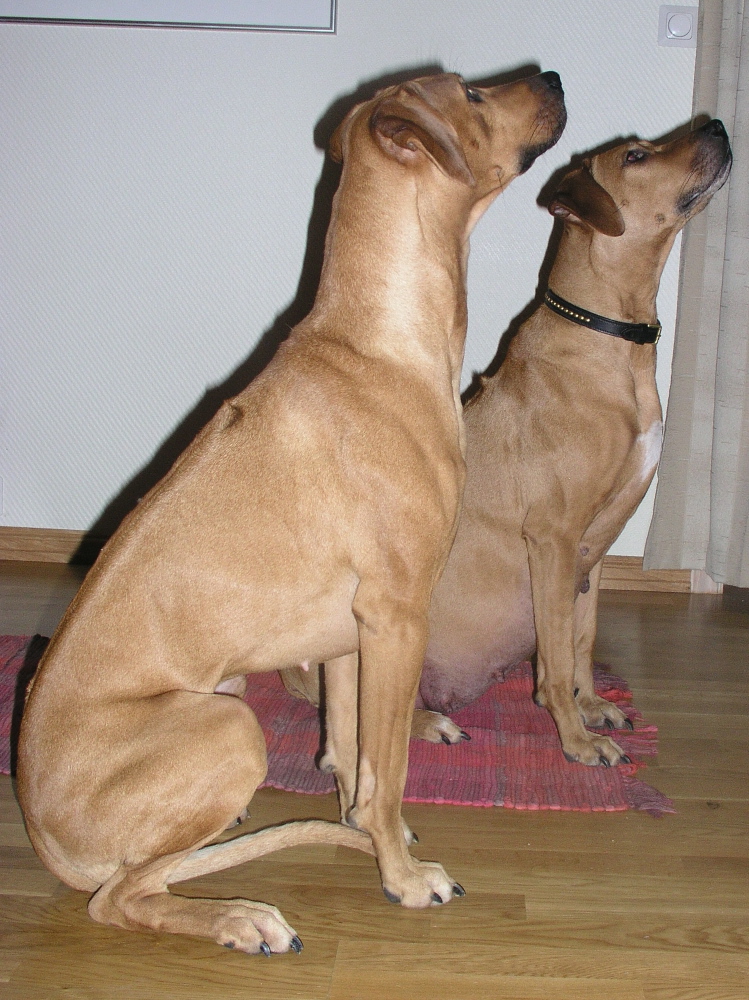 *Planned litters page now in Norwegian with link to the English version.
The mother-to-be is in good shape, although it seems she is getting bigger by the minute... Aisha is very excited about Tamios new smell and I hope she will be a proud big sister to the pups!
Pictures from our walk: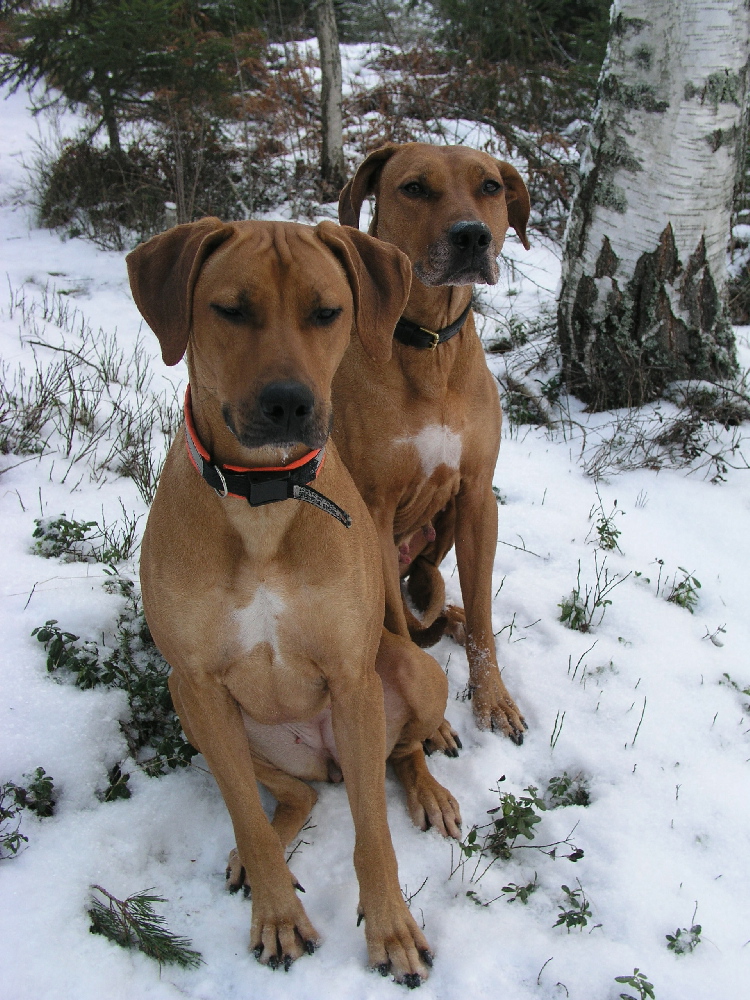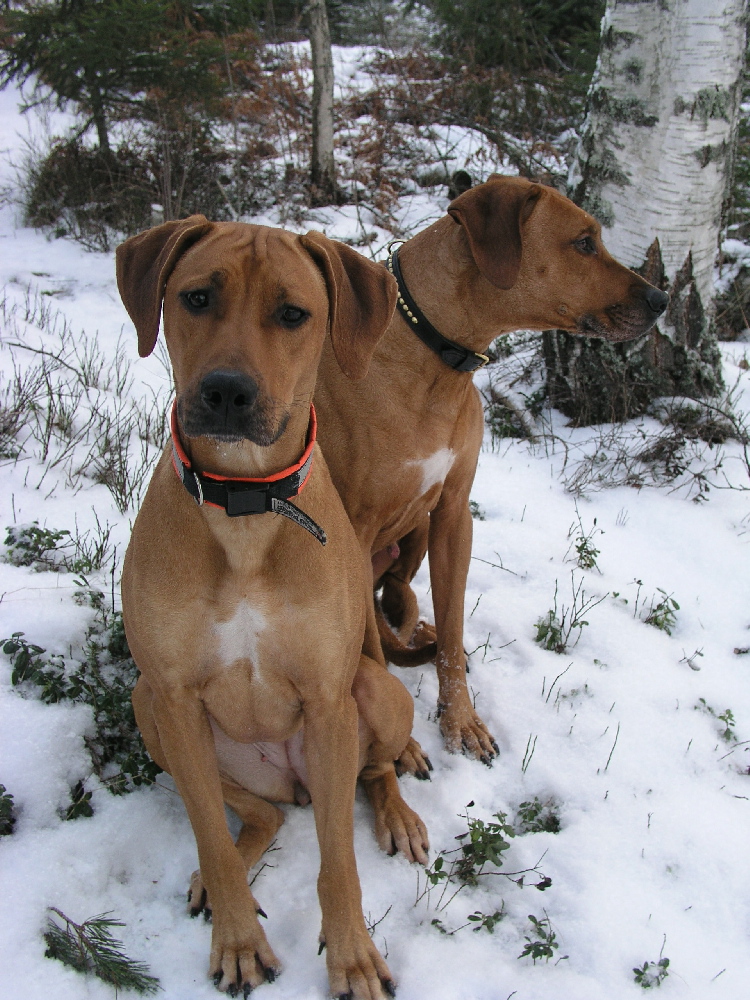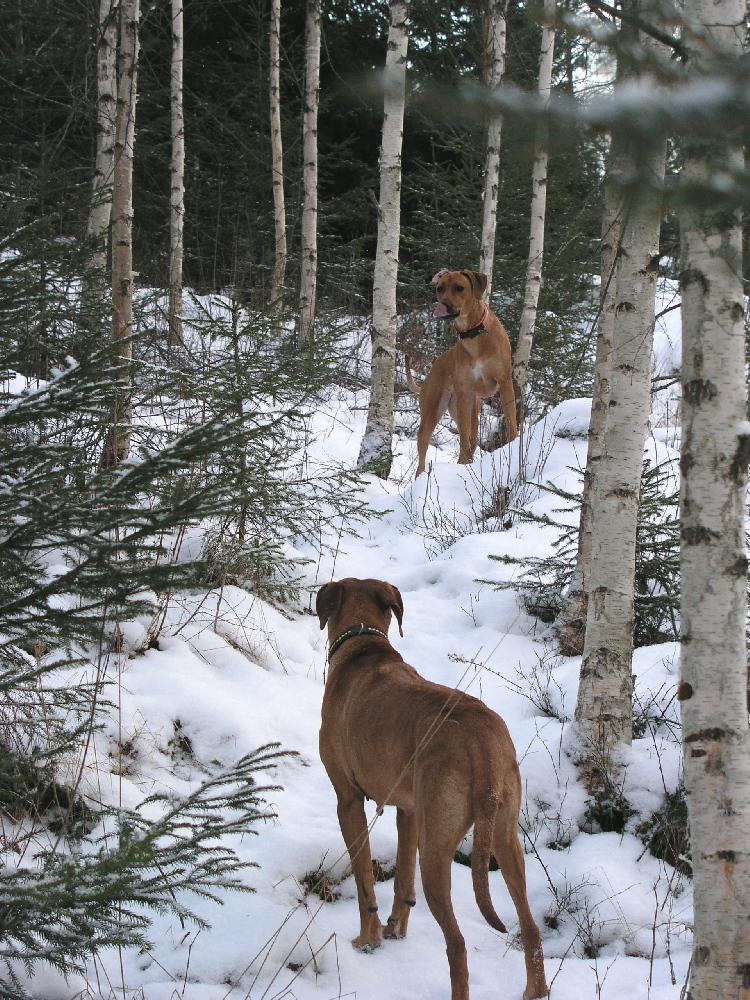 December 2005: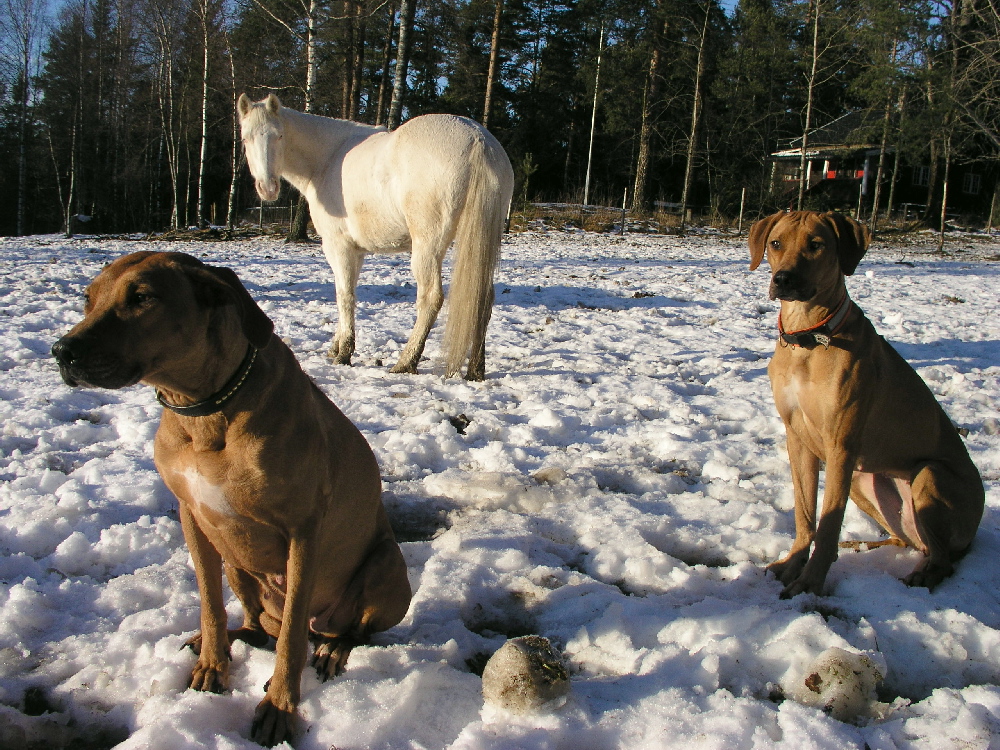 We wish you all a Merry Christmas and all the best for the New Year!!
October 2005:
* We would like to introduce our last additions to our fast-growing zoo - the two cats: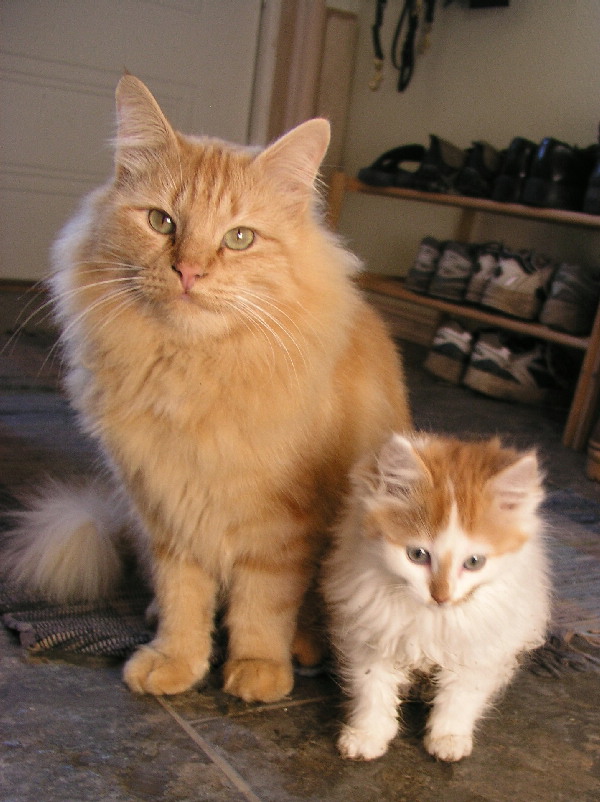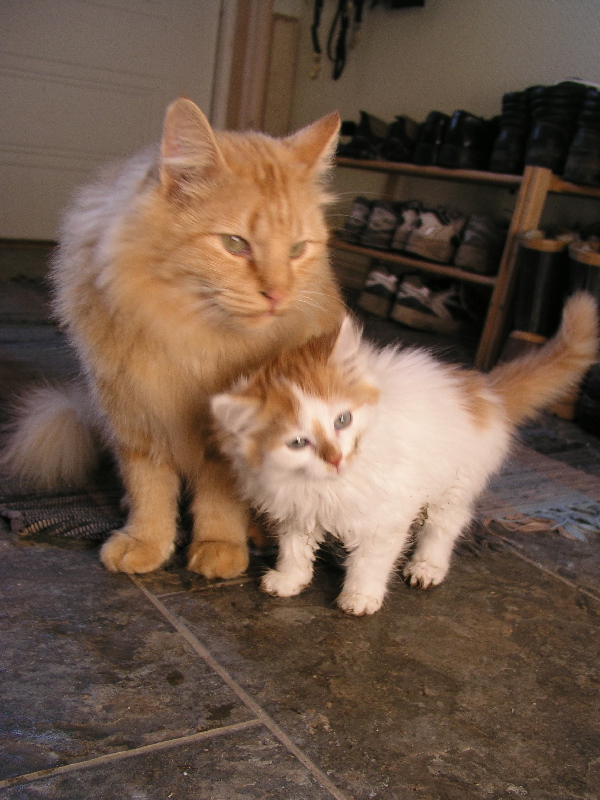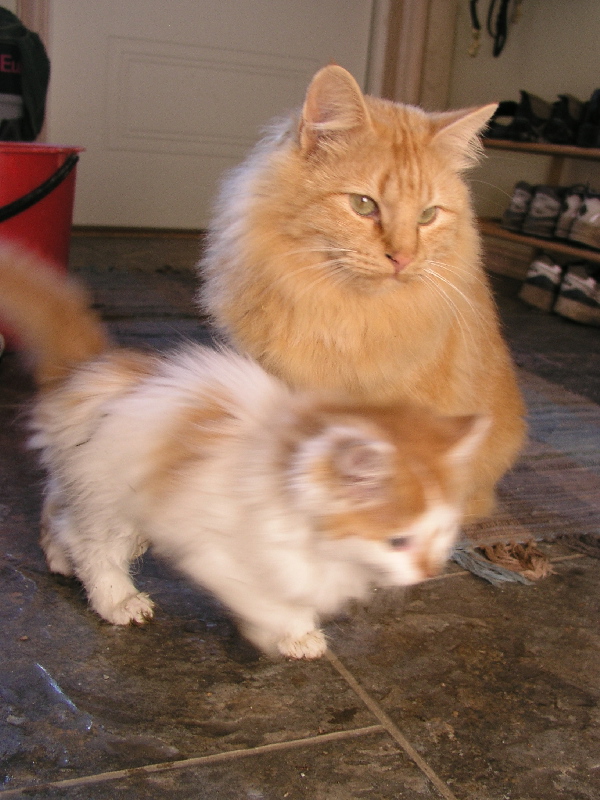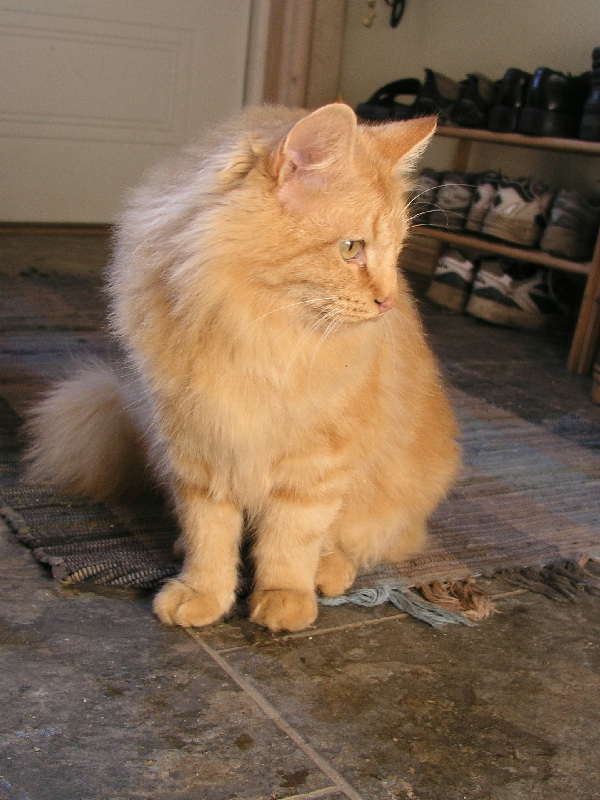 Small cats sit still for limited periods of time ;o)
June 2005:
* Congratulations to Ingunn and Fåvne on the decisive CC for the championtitle at the NKK-show in Trondheim!! Judge: Helge Lie. BOB Løveklippens Anisa Ljaba.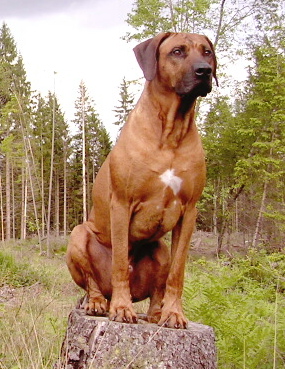 Fåvne june 2005. Photo Ingunn Vestrum.
May 2005:
* We went to the Ridgeback special this weekend with Aisha and Anansi. On Saturday, Anansi placed fourth in his class with a very good critic. Aisha obviously wantet to beat her big brother and thus placed third with honours prize in her class on Sunday!! Unfortunately I didn't bring a photographer so there are no pictures. I am very pleased with the two youngsters especially since this is the first show for Anansi and Aishas first go since puppyclass.
Congratulations also to their father, Akeron who was BIS-veteran.
April 2005:
* The sire of the next litter is announced at planned litters page. The litter is due spring 2006 if all goes according to plan!
* We have moved to Siggerud, southeast of Oslo. We also have a new family member, Skoglys Dolche Vita, pictured below.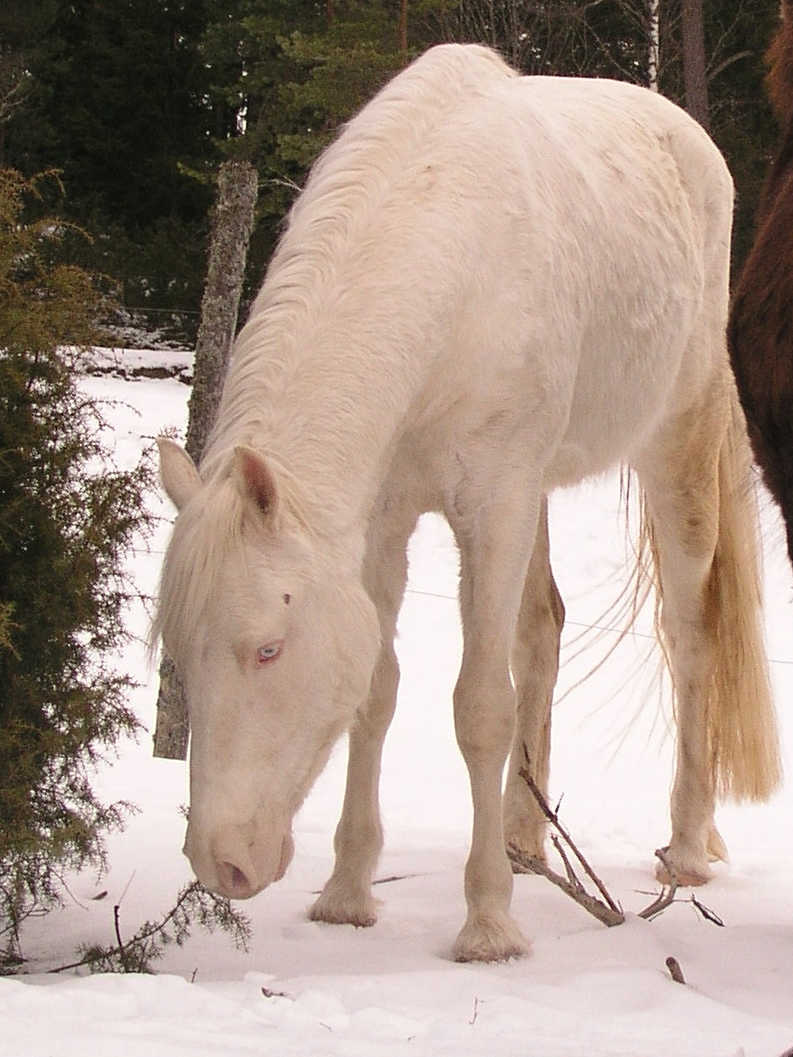 September 2004:
* Aisha and Ajabu was shown in puppyclass 6-9 months at Valhall, Oslo 25.09.04. Ajabu was #2 in his class and Aisha 2BTK. Ajabu seemed to enjoy being in the ring, especially when he kissed the judge...which he did a lot!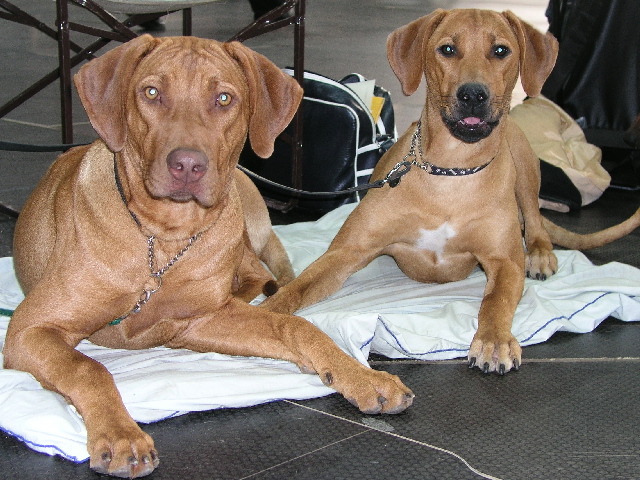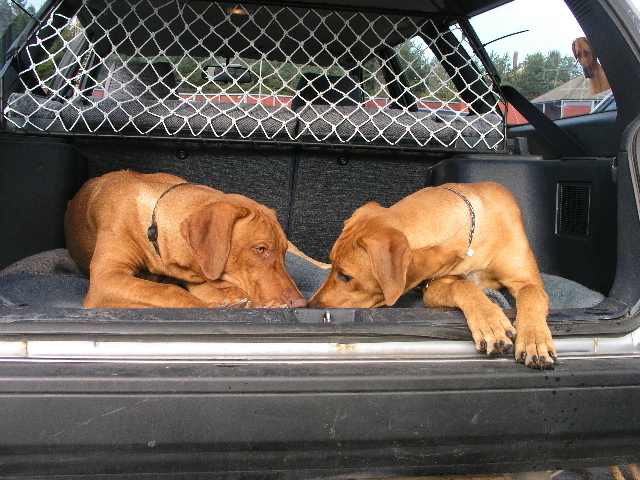 August 2004:
* Aisha was shown in puppyclass at the Swedish Speciality 28.08.04. Her critic was good and she was attentive and well-going in the ring, but she was not placed in her class this time. We had a lovely weekend in Stockholm, huge thanks to Veronica and Magnus for having us as house guests! Thanks to Robert for taking photos.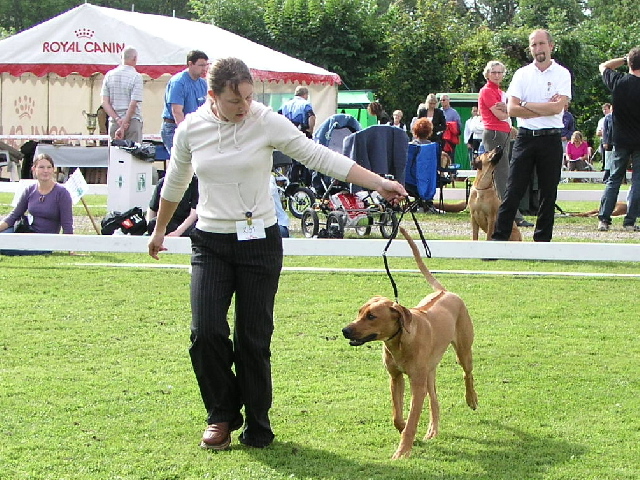 June 2004:
* Aisha entered a puppyshow for all breeds from 3-9 months of age 03.04.06. She really impressed us by being concentrated and well-behaved all the time! Winner was a miniature dachs, Aisha finished second, shared with three other finalists.