- norsk tekst her!
Planned Etosha - litter spring 2010:
Ridgebackpups born 27.07.10!
We've had little luck with our litter plans since the Dodori litter was born, but now it seems that we finally can have another long awaited Hunting Pride litter. Since Kenzo, the chosen sire for Dhamiras 2009 winter-litter (that didn't happen) has been struck ill with hernia and was castrated in that respect, we have searched long and thoroughly for another male with the preferred mentality and looks for our special lady. It's not an easy task to find a male with all these qualities, and those I have found have either been closely related to Dhamira (ie Morris, the planned male for Busara/Frøya) or a little to large for her. Then Cornelia, Kenzo's owner asked if we had looked at other males in Kenzo's litter? She suggested Kwinto, and yes - he is perfect!
Kwinto has a mentality that is perfectly matched to that of our very sociable, trusting, playful, happy and curious girl, he is laidback, brave, with courage and open to strangers without beeing overwhelming in his greetings. Both dogs are extremely confident, secure in every environment and great with children. Dhamira actually prefers the company of our daughter Sunniva, she chooses to lay down beside her (and not only because of the food she gets ;-)) Sunniva can take small fractions of food and give the dogs and they just nibble it out from her tiny hand without the use of teeth at all, as they would in the showring with me...
Kwinto is lovely coloured, with balanced angulations, very good forechest, matching bone and body and a very good outline with both the desired length and depth, in a perfect size. All in all a very good male, and a superb match for the slender, feminine and somewhat larger Dhamira. Of her best qualities are her good topline and croup, matching angulations and a drop dead gorgeous head that makes people turn and stop when she passes on the street. She also has a very good and natural trot and a ground covering stride and very good bone and pigmentation. She has won best ridge at breed specialty show and has perfectly symmetrical crowns and a very long and perfect ridge .
Both Kwinto and Dhamira comes from litters with very good health statistics, in Kwintos litter all 8 siblings have perfect hips and elbows, none has any known hereditary illness and all have been through a MH with great results. In Dhamiras litter there are 5 of 6 x-rayed with perfect hips, one unknown, and 4 x-rayed elbows where one C (mild) and three with perfect elbows. No disease or illness in this litter, very good mentality and a special openness towards people!
We expect the puppies to be open, sociable and trusting with a whole lot of self esteem and arrogant confidence that this breed is known for, combined with courage, couriousity and a laidback nature. Rock steady dogs with no fears. Hopefully, both dogs carry the liver gene so that there will be some liver beauties in this litter, and if not, they'll probably get black mask and strong pigmentation.
Pics:
Mixed Day 1 1 week 3 weeks 4 weeks 5 weeks 6 weeks
Dam: Hunting Prides Dodori Dhamira

HD-A AA-A

Full dentition in a correct scissorbite.

67 cm

Awarded HP and CQ

Mentality tested, gunshot proof

Sire: Ridgebows Kwinto of Wasco

HD-A AA-A

Full dentition in a correct scissorbite.

66cm

Shown with 1. prize

Mentality tested, gunshot proof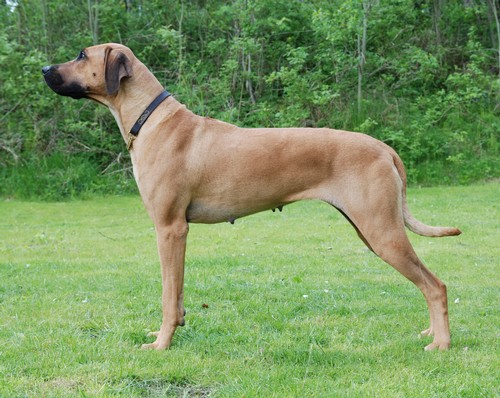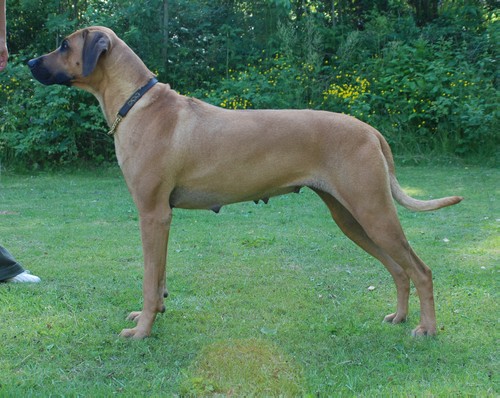 Dhamira pictured in May, just after mating (left), and 34 days pregnant (right).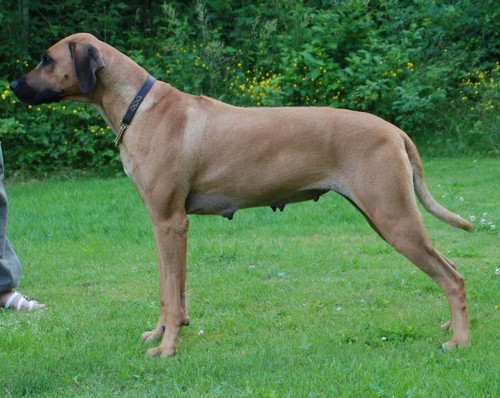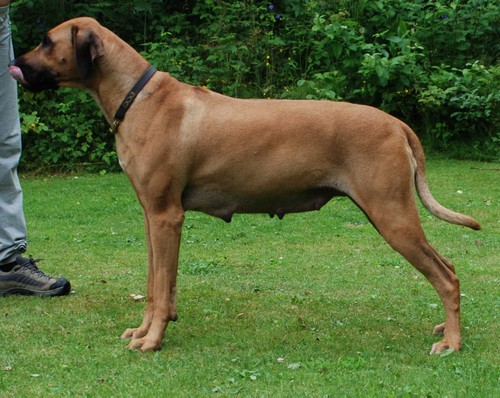 Day 40 to the left, day 50 to the right!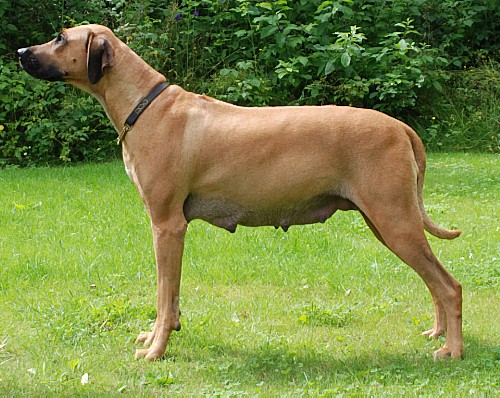 57 days pregnant, under a week to go!
Ridgebow's Kwinto of Wasco
SUCH SV 04 Djungelkattens Wasco da Persbrandt
INTUCH NORDUCH DKUCH LUCH NV-01-02-03 KBHV-03-04 Ukukhanya Scout The Red Baron (L)
NORDUCH FINV-03 Zumeli's Ashiki
Ridgebow's Caisa of Simon CV
SUCH NUCH Haibas Äddy
INTUCH NORDUCH Lövfällan's Gucci

Hunting Prides Dodori Dhamira

NUCH

NORDV-02 NORDUV-02 NV-04

Masithelas Famous Akinzo by Woody
INTUCH USCH CANCH Wetu of Kalahari

NUCH DKUCH NORDV-98 NV-00

Ami Sariba
Hunting Prides Amboseli Aisha
INT NORD DKUCH FIN S V-01 WW-02 Rex Ventors Akeron
Hasselsnårets Norma Jeane Baker
Phone: +47 97 12 35 35 or mail: kennel@hunting-pride.com
Next litter - Faro litter, 2011, more info here!