- norsk tekst her!
Planned Faro-litter winter 2010/2011:
Puppies born 12th of March.
Binti is the easiest, gentlest and sweetest dog I've ever known, and she has an admirable calm and solid nature. I can think of only two occasions where she has been frightened in her whole life (and she moved to the middle of Oslo at the age of 18 months so there would be plenty of things that could seem scary at first for a country girl ;-)). She is nothing but kind, on the verge of being too kind, and it's only after four years of age that she has started to tell males off her back.
She is a large bitch with lots of qualities, good bone, balanced topline and chest, and her very correct and straight posture are of her best markings, together with an absolutely stunning colour and great pigmentation. She has a very long, broad and symmetrical ridge and a lovely head and expression.
To match this gentle girl, we have searched for a male with a very confident nature, curiosity, courage and drive, yet with the same friendliness and sociable side as Binti has because we're eager to keep this trait. We've searched thoroughly for the best mate for her, who has impeccable health and temperament and who's previously been used in breeding with good results. We think we have found the ideal candidate as far away as the Czech republic! Here lives the incredibly trainable and work oriented Rebel - Shelridge Aussie Rebel is his name. He is an Australian import with both Australian and American heritage. Rebel is one of very few Ridgebacks with proven working abilities and we're very happy to have stumbled upon this gorgeous dog (with some help ;-)) He is of course a healthy dog with no known hereditary diseases and he has gone trough a mentality test in the Czech republic. In addition to this he is incredibly beautiful, deep red wheaten without any white markings and with a very long, broad and symmetrical ridge. His expression is just lovely and he is a stunning match to Binti. They have lots of similarities but also complementary qualities conformational wise. Rebel has an amazing show career and in spite of young age he is already both Polish and Hungarian show champion, among lots of other accomplishments in the show ring!
Binti has a very limited show career, as she is as calm in the show ring as she is at home it's not an easy task to get her to show her best (and enjoy it...). But she has a best bitch placement and has been awarded HP and CQ, not to forget her amazing Best Puppy in Show win at the Swedish specialty show in 2006 from 15 competing puppies. Best male puppy was her brother Bora!
We know that this will be super friendly puppies, with the same sociable side as all relatives of Fåvne inherits, with a stable, gentle and sweet nature. No need to mention that the parents are healthy, sound individuals from healthy lines; we expect nothing less from the pups. We hope they will be trainable dogs with working abilities and drive, yet with the confident and calm nature of their parents. They are both well adjusted dogs that gets along with all dogs, people and other animals. These puppies will be RED in colour and they'll probably all get black mask and strong pigmentation. Since both parents are on the larger side, so will probably the offspring, but hey - don't we all love gentle giants? ;-D
We expect the puppies to be born in March with delivery in May!
The puppies were born 12th of March, it was a prolonged and hard birth, and that is probably the reason why so many pups were stillborn. In total; 7 pups were born, 2 males and 5 females. One correct and one ridgeless male, both stillborn. Two ridgeless bitches, and three with multicrowns of which two were stillborn. We have left three bitches, two ridgeless and one with multicrowns.
Pics of the pups:
Dam: Hunting Prides Bwindi Bintiye

HD-A AA-A

Eyes clear

Full dentition in a correct scissor bite.

68 cm, 37 kg

Awarded HP and CQ

Mentality tested, gunshot proof

Sire: Shelridge Aussie Rebel

HD-0/0 (A) AA-0/0 (A)

Eyes clear, thyroid normal. Ekg normal.

Full dentition in a correct scissor bite.

69 cm, 44 kg

Hungarian and Polish champion, competes in tracking and obedience.

Mentality tested, gunshot proof.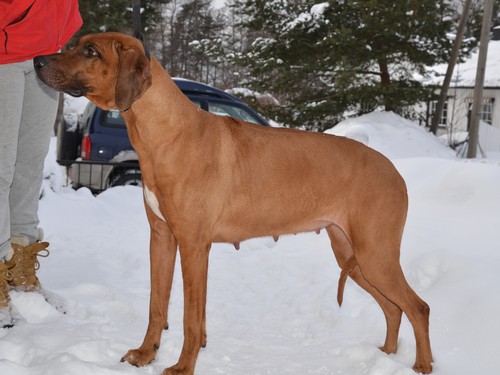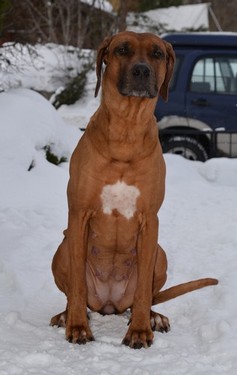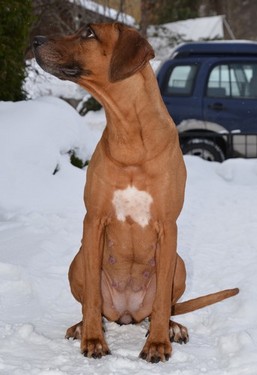 Binti 40 days pregnant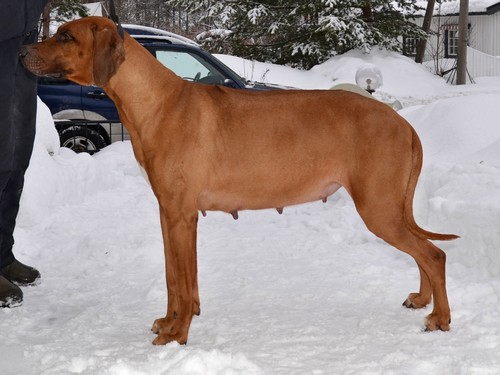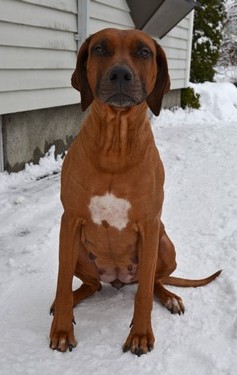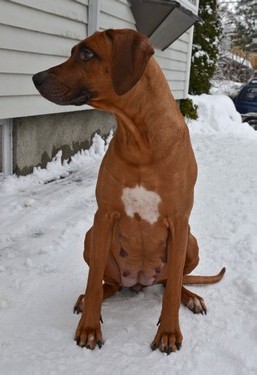 Binti 50 days pregnant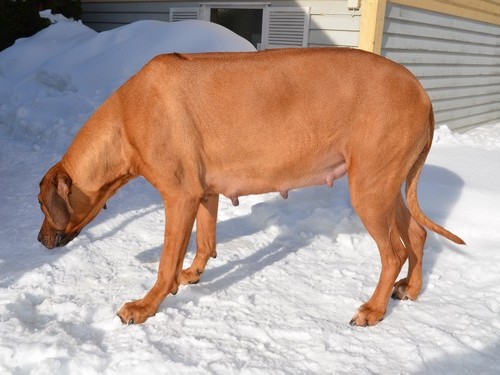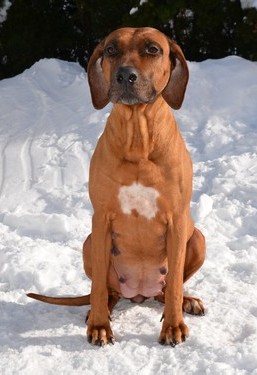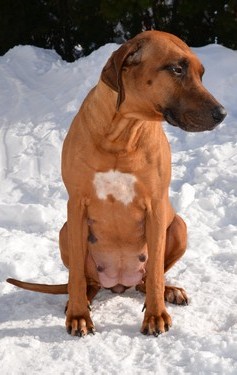 Binti 57 days pregnant and pretty fed up ;-)
CLUB CH PL HU CH Shelridge Aussie Rebel
BIS/BISS AUS CH Lionsbane Hes The Boss
RUBISS AUS CH Zimbalooba Orions Bow
AUS CH Usakose Thunder Nlitning
MRBIS AUS CH Ozrhode Divine Mystique
BISS BIS AM /AUST CH Camelots Code Red
MBISS AUS GR CH Ozrhode Ari Mystic Gypsy ET

Hunting Prides Bwindi Bintiye

NUCH Masithelas Einherjer Fåvne
N DK CH Caraen Afri Shaman

NUCH DKUCH NORDV-98 NV-00

Ami Sariba
Hasselsnårets Norma Jeane Baker
Lövfällans Harrasch
Oppigården's Rosiga Raisa
Phone: +47 97 12 35 35 or mail: kennel@hunting-pride.com