- norsk tekst her!
Planned litter spring 2015:
Dhamira will have her final litter in 2015. As the mating fell on the worst possible timing during the winter holiday, the original plans with Mohaget's Mister Masai had to be postponed - but we will definitely try again with another bitch on a later occasion!
So, we had to go for our second best option - to breed our loyal and devoted baby sitter and pack leader Dhamira with our mental bomb from the Insinya litter - lovely Isimo.
Since Dhamira is a once-in-a-lifetime dog, and the Dodori litter all have the same qualities but unfortunately none of them have descendants, this litter is very, very important to us. To match all the good qualities of Dhamira, a suitable male would have to have an outstanding mentality. We know that we have that in Isimo, a dog with a one-in-a-million mentality test (although a bit more like the working breeds than the ridgeback on some points ;-)), he is just fantastic with children and especially good with horses - I have never seen equal in any other puppies I have had around the horses than the Insinya litter.
As his mentality test shows, he has lots of curiosity, lots of courage and no fears. And I mean absolutely no fears! The judge said that this test is made to capture the reaction to fearful stimuli and that was impossible to score in this dog :-D Even if it sounds like a different breed of dog, he still has the qualities of a Ridgeback, and combined with Dhamira's more sensible way this is our dream combo. Isimo is a healthy and sound young male, born in a litter with perfect x-ray results.
Dhamiras 2010 and 2012 litters have turned out very well, although pretty different in size ;-) They are in general very friendly and open dogs, very fond of children as their mother, and the two litters have in common their happy, tolerant and accessible nature. Some have controllable, but strong hunting instincts, some more laidback towards game. The two bitches in the Etoshalitter shows a clear preference for elks, Egamisha being used in practical hunting. They are pretty too, Etana is Norwegian Champion and Norwegian Junior winner in 2011, and has a whole row of best bitch placements! In the Hwange-litter, Hija has done a remarkable mentality test, showing very low fears, super quick recovery and curiosity combined with a sociable nature. We are very pleased with Dhamira's two previous litters and hope that her final litter will give us a lot of these qualities over again!
Dhamira is my best friend, but I think she values my daughters higher than me even ;-) She has always chose to be with children, and loves their attention, whether it is a friendly kiss or playing dress-up. She is a very steady bitch, it is not much that can upset her but she has balanced guarding and she uses it when needed. She is the fastest Ridgeback I've had, but she also has stamina, and loves to be in the harness, either on ski, with or without pulka, or before the cart. She goes all in at every activity and her positive, honest energy is highly cherished.
She is the undisputed leader of our whole pack, being the one who adopts new dogs and puppies - after Zoës arrival, Dhamira applied for membership with the German Pointer club as she is very certain that Zoë belongs to her ;-) She is also the police of the pack - if there is ever any quarrelling between two dogs in the dog yard, Dhamira is there before we have time to shout at them, effectively splitting them up without a sound! When BB came back to us, my parents' Lagotto didn't think much of her and was a bit intimidated over this playful youngster. She growled when BB ran by and snapped at BB, and then faster than lightning Dhamira went over to her and just held her gently, but firmly down with the weight of her front leg - and that was the last of it!
Since Dhamiras first litter consist of small/mediumsized dogs (only one male above standard height) and the second litter with a larger sire was large to a bit over standard height, we hope that these will be within standard. Chances are that there might be considerable variation in size. Mentality wise they will probably be active, open, accessible and friendly dogs with much curiosity and confidence, they should be good trackers and even hunters, and great with other animals, dogs and children.
If you want a happy-go-lucky ridgeback with lots of energy for working - be it agility, obedience, tracking or other dog sports, who will be perfect with horses and the best of friends with children - this is the litter for you. These puppies will only be sold to experienced homes with a genuine interest in the breed and plans for an active life with the dog.
Dhamira and Isimo was mated 16th-17th of February which means that the puppies should be ready for delivery late spring/early summer. 4 puppies born April 22, 3 bitches and 1 male. All correct ridges, no sinuses or tail kinks detected so far. Minimal white. Two bitches has dew claws.
Photos:
Hunting Prides Insinya Isimo
Oppigårdens Solfångare
Oppigårdens Karl Johan
SE UCH SE VCH Oppigårdens Nova
Aziz Alilea Yejide
IS CH Bawabu Sulemani Salimu
Hunting Prides Amboseli Aziza

Hunting Prides Dodori Dhamira

NUCH

NORDV-02 NORDUV-02 NV-04

Masithelas Famous Akinzo by Woody
INTUCH USCH CANCH Wetu of Kalahari

NUCH DKUCH NORDV-98 NV-00

Ami Sariba

Hunting Prides Amboseli Aisha

INT NORD DKUCH FIN S V-01 WW-02 Rex Ventors Akeron
Hasselsnårets Norma Jeane Baker
Phone: +47 97 12 35 35 or mail: kennel@hunting-pride.com
Dhamira 4 and 6 weeks pregnant: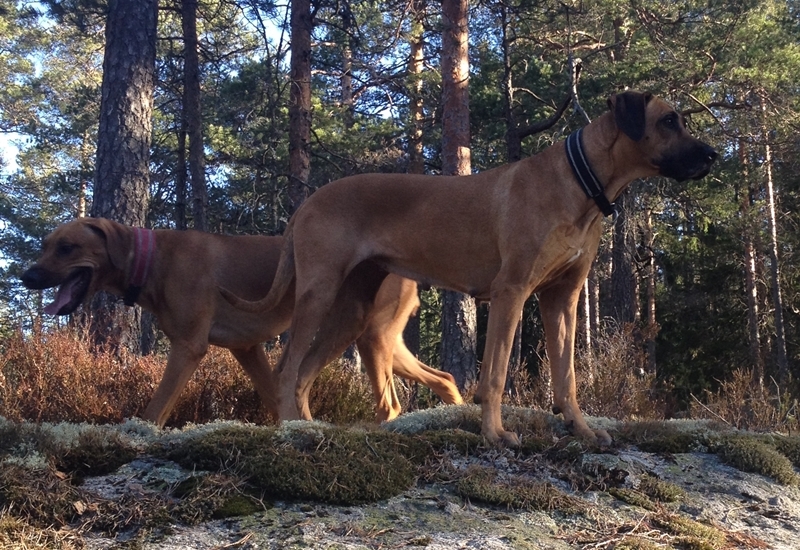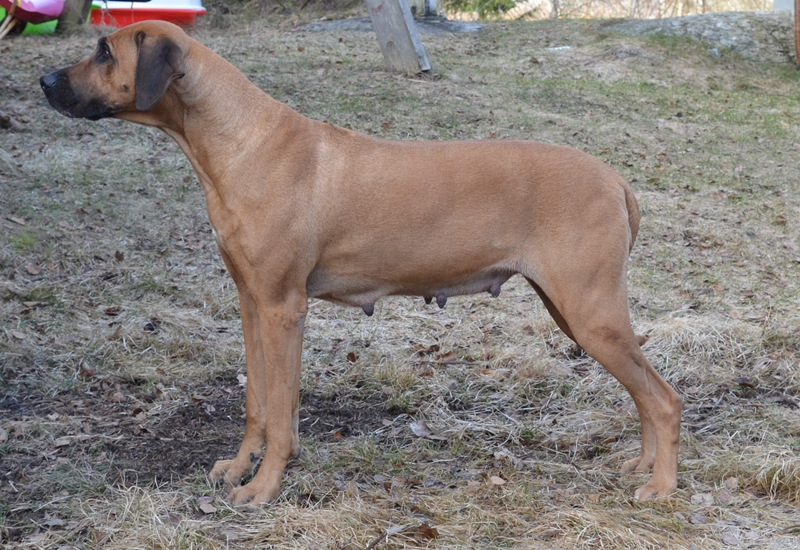 7 and 8 weeks: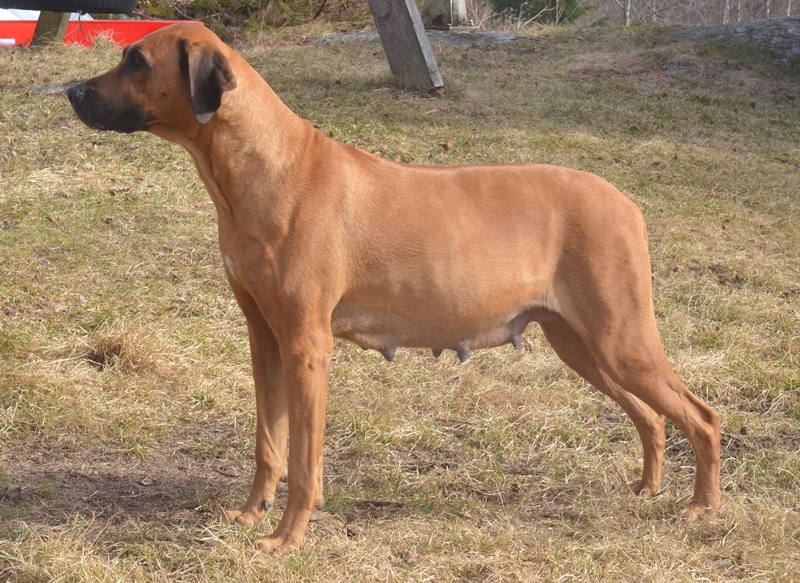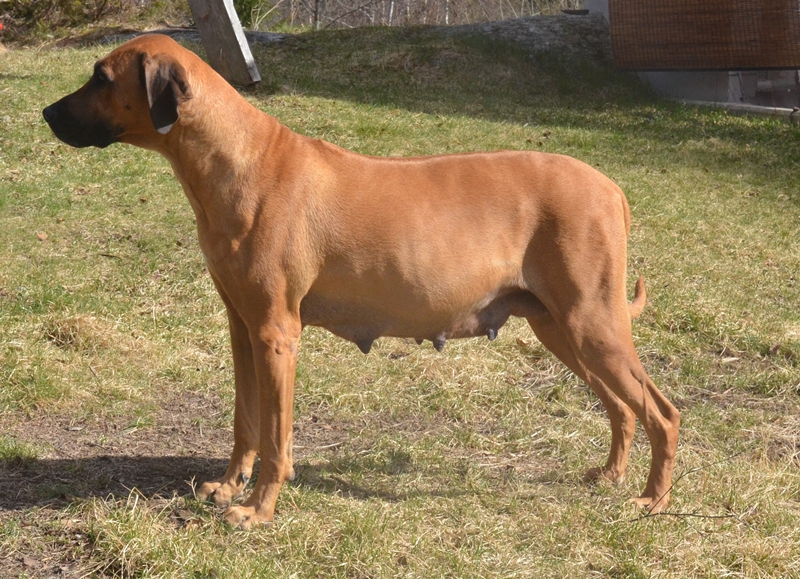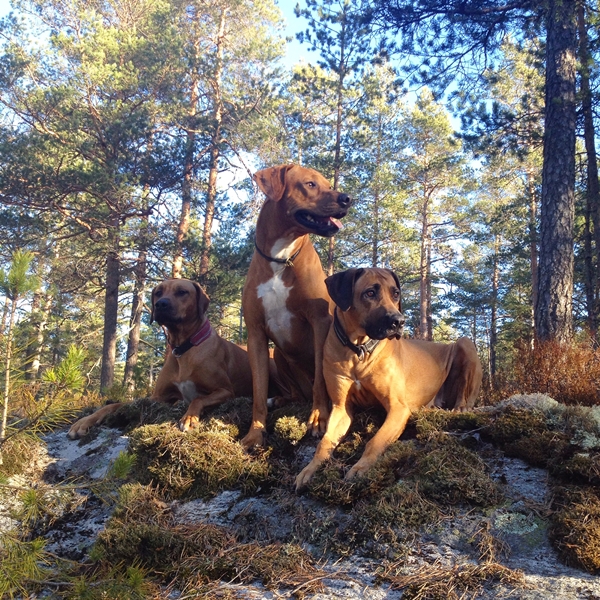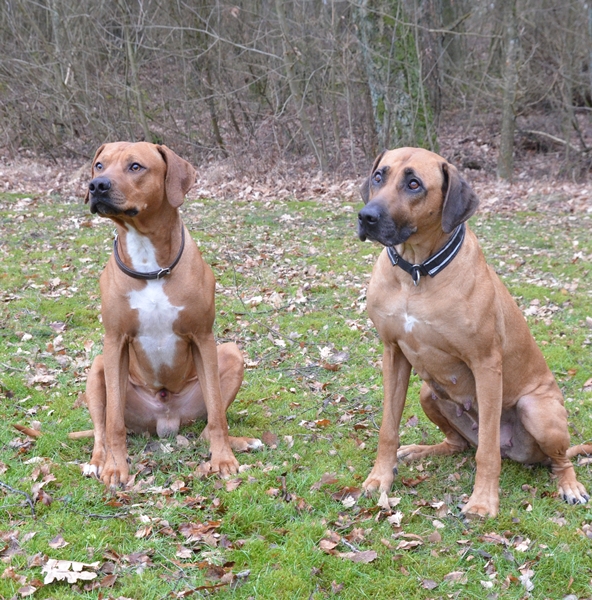 Isimo: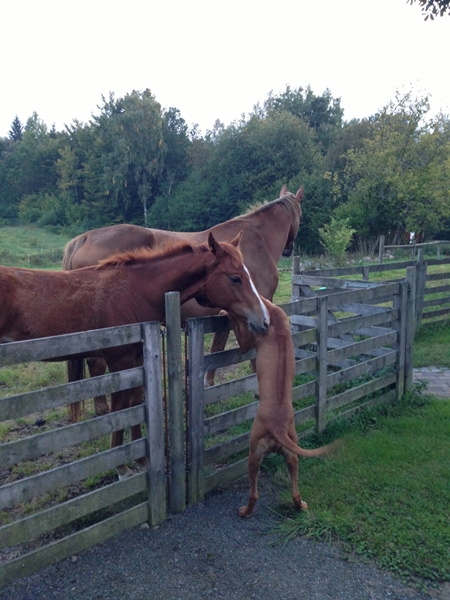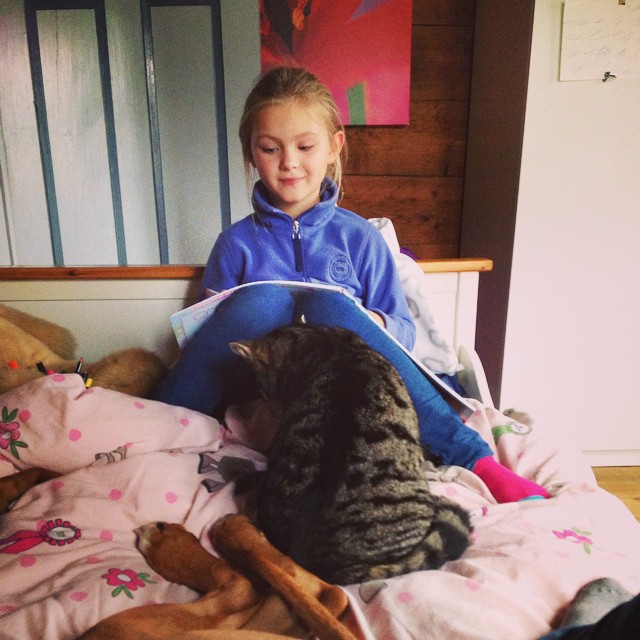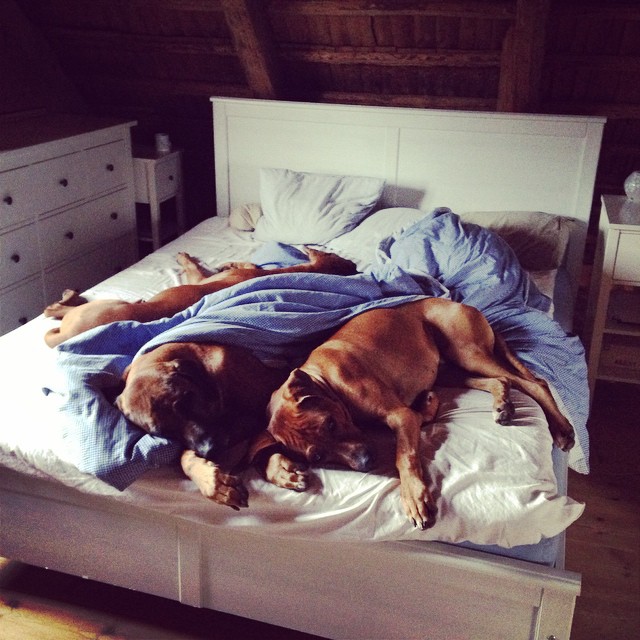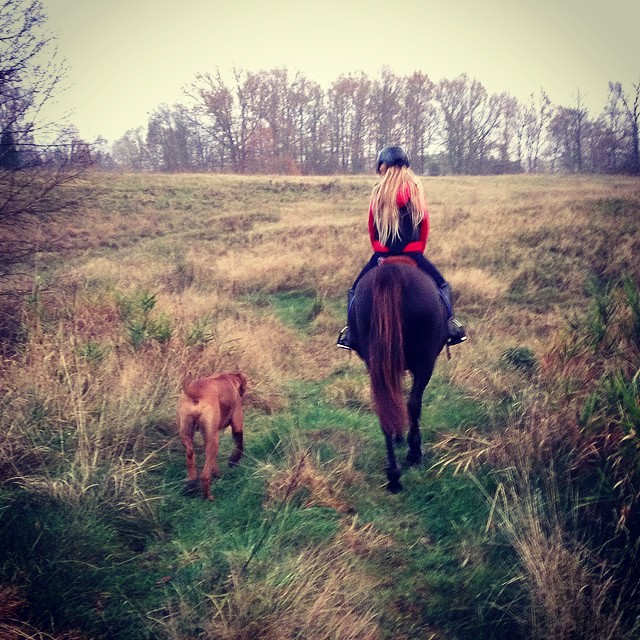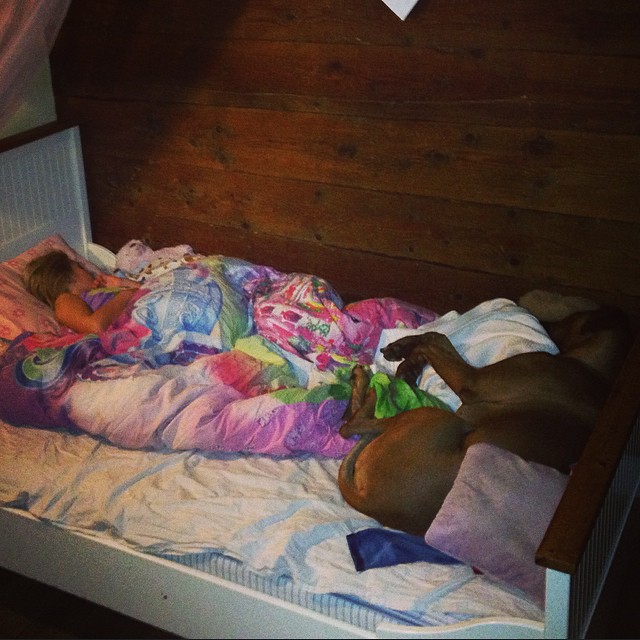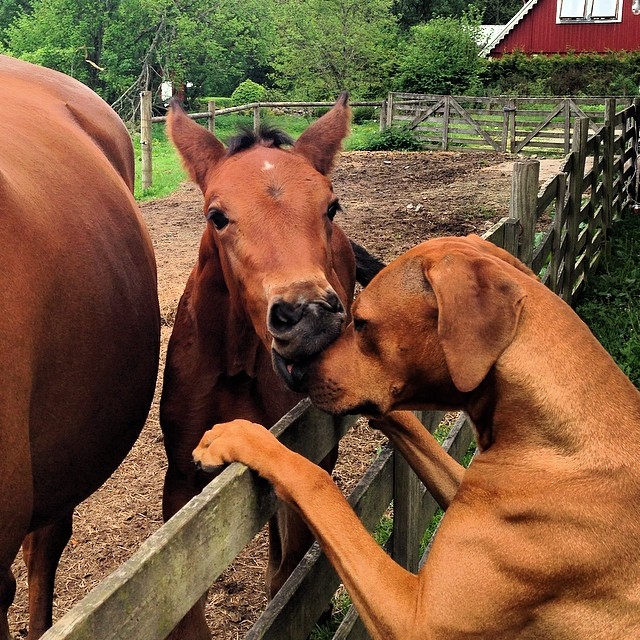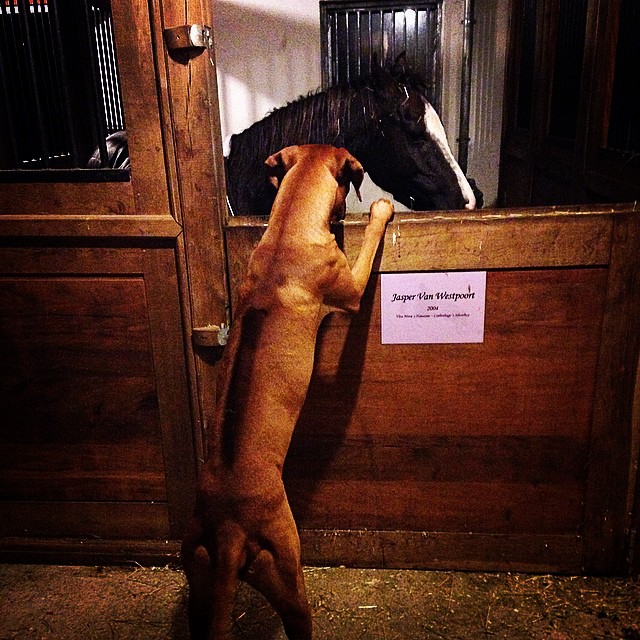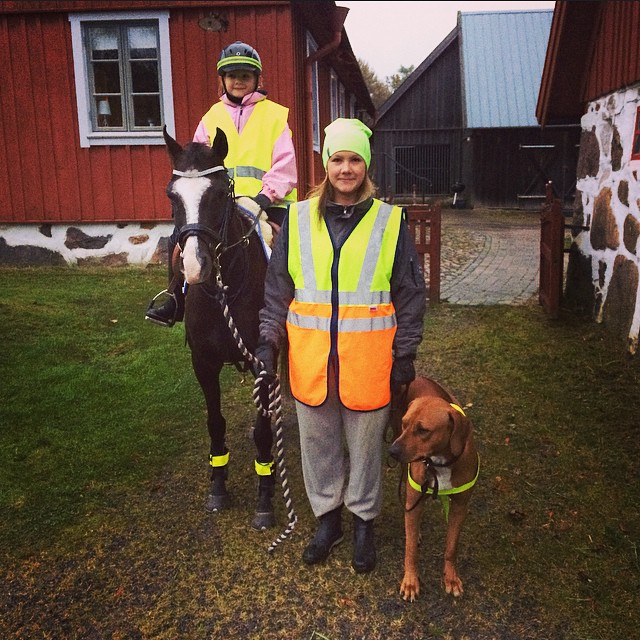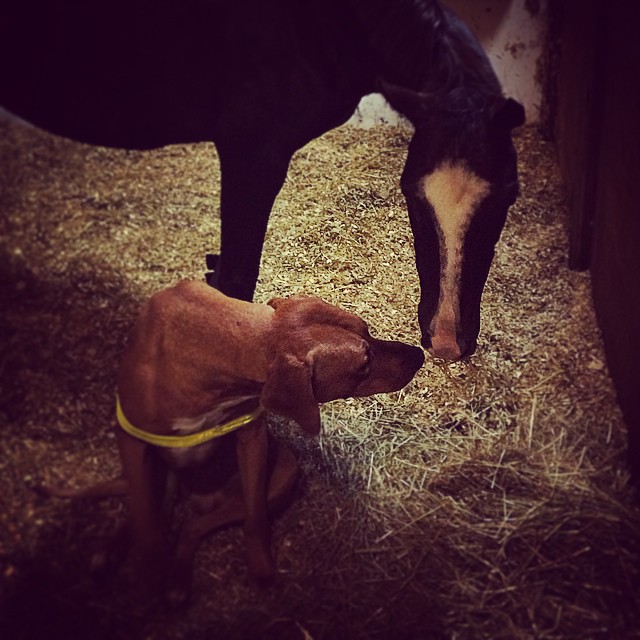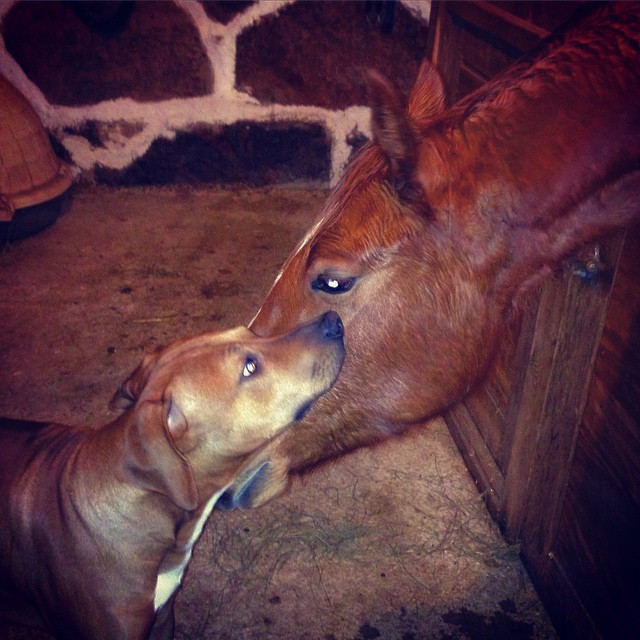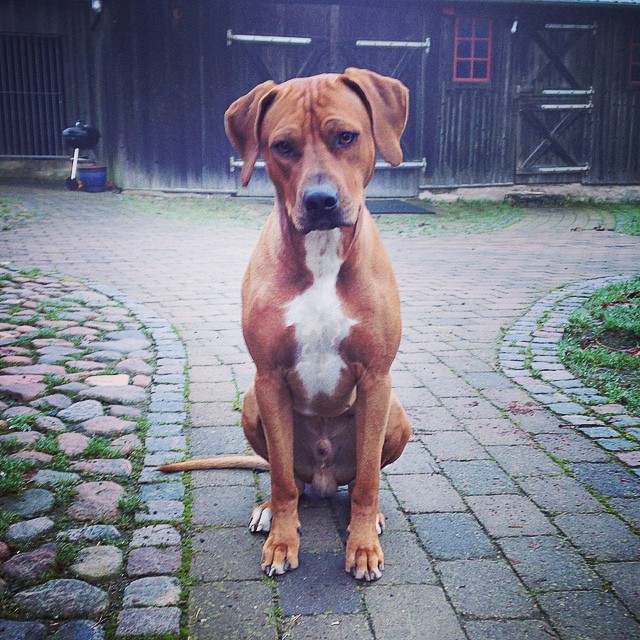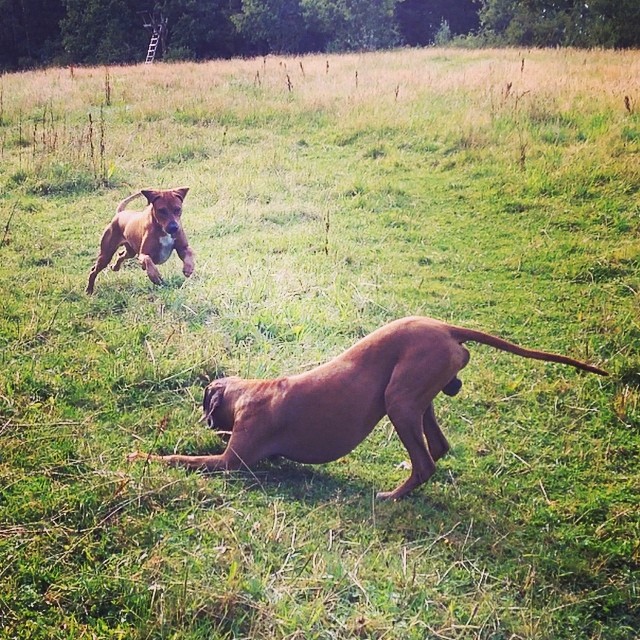 Dhamira: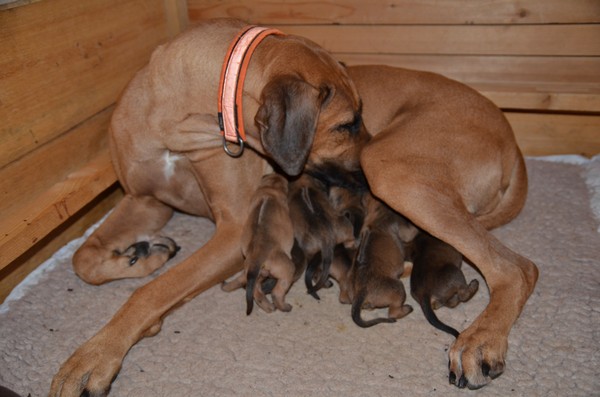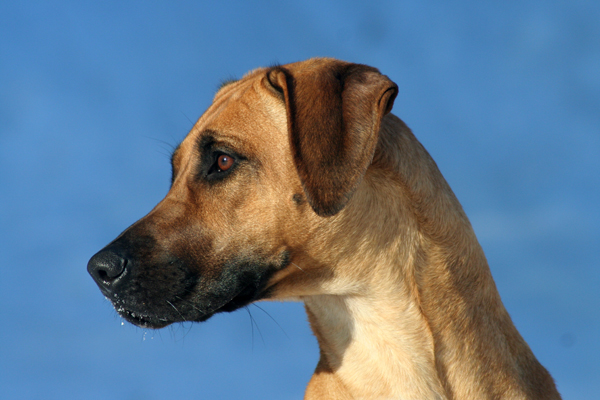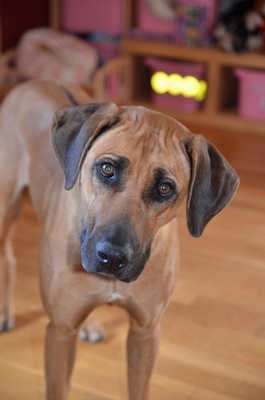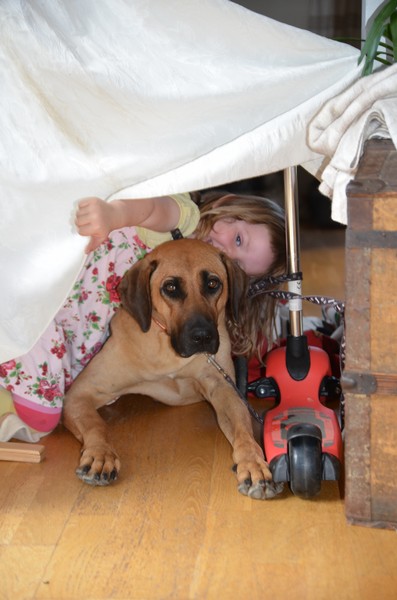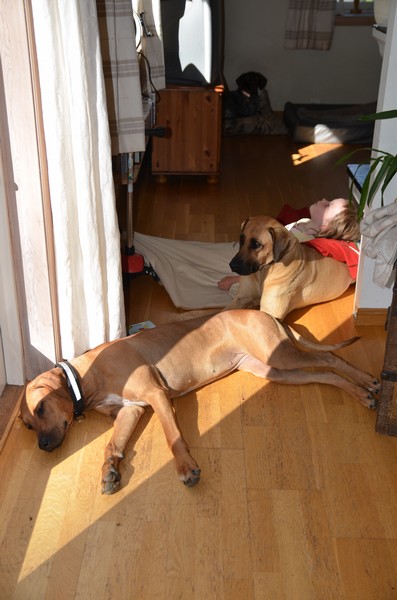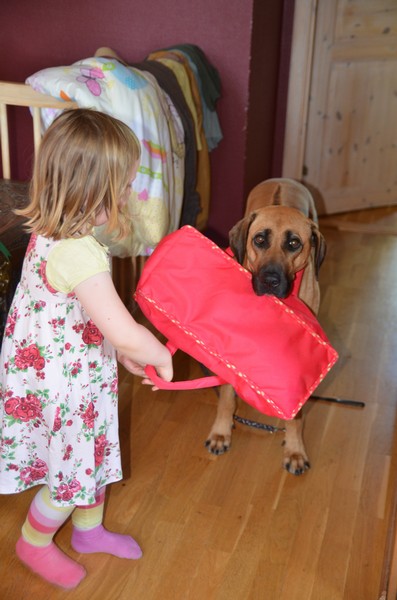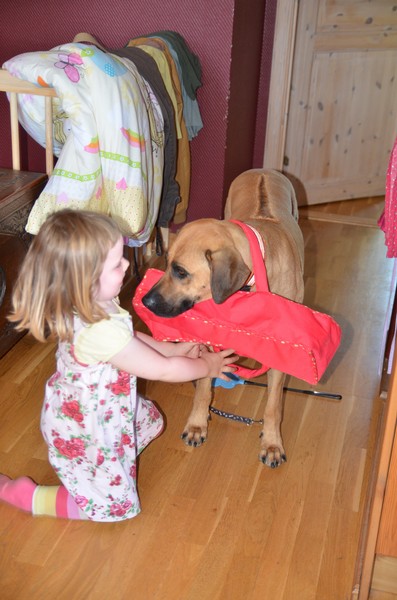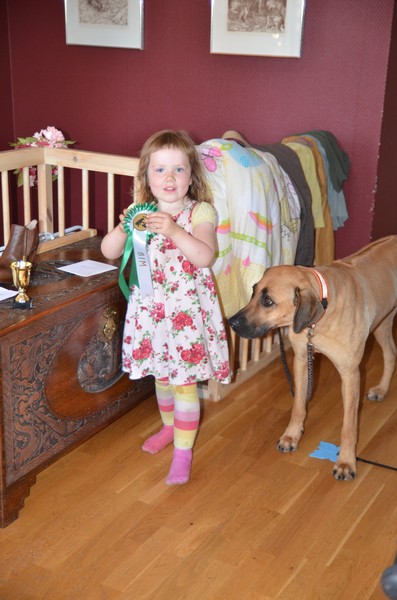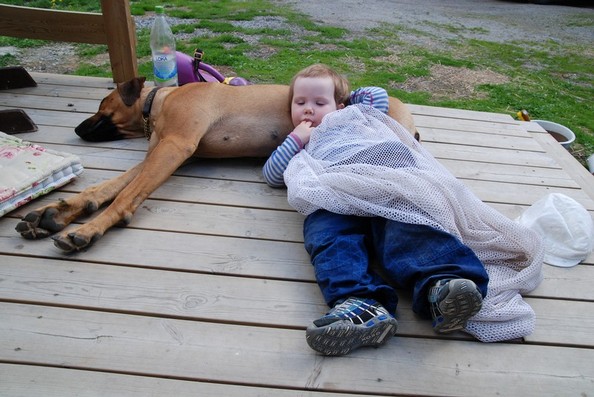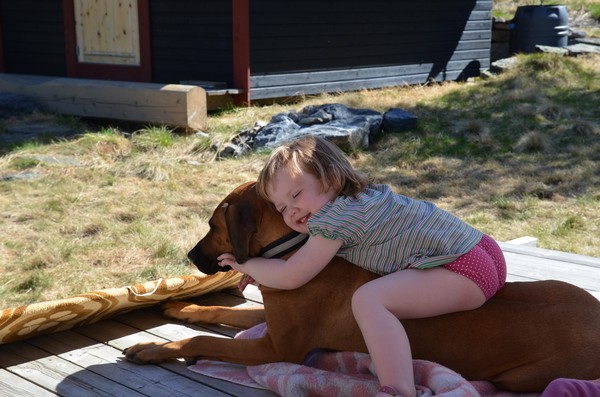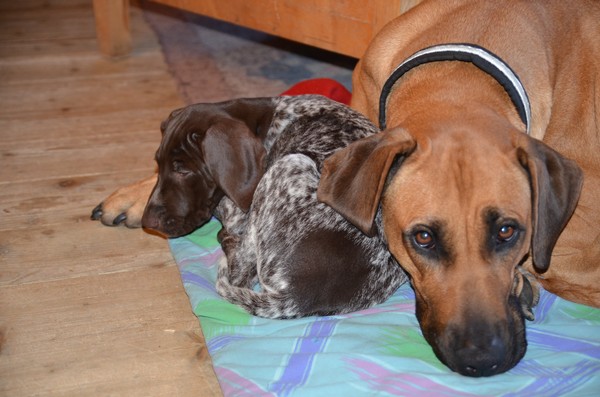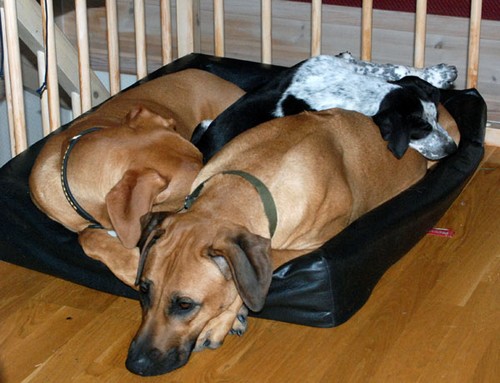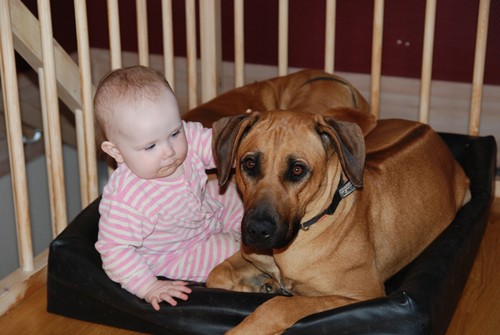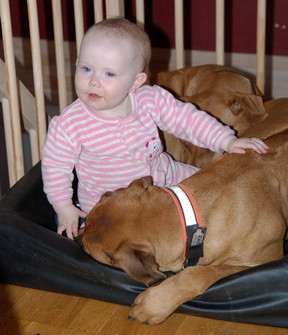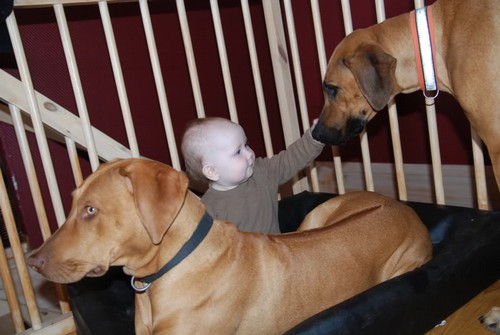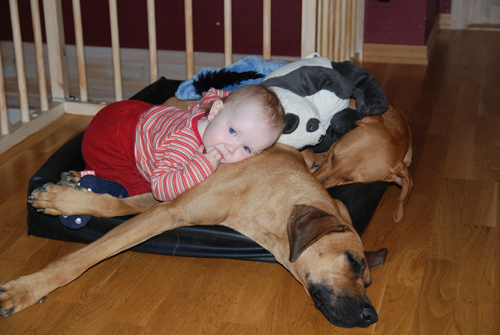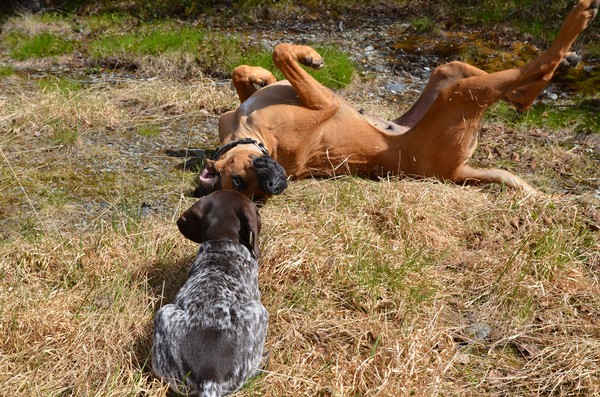 Trying to win Zoë over - their first encounter ;-)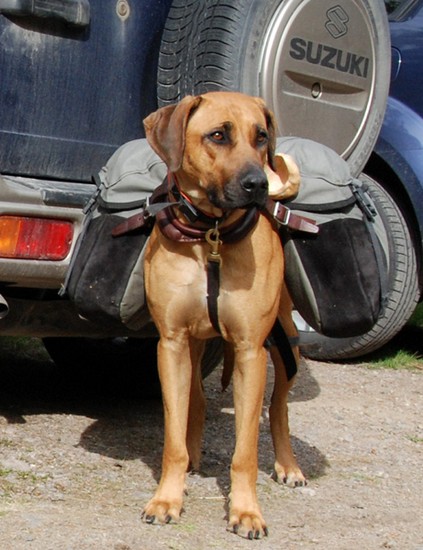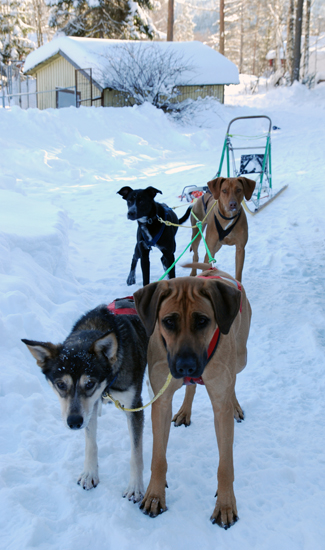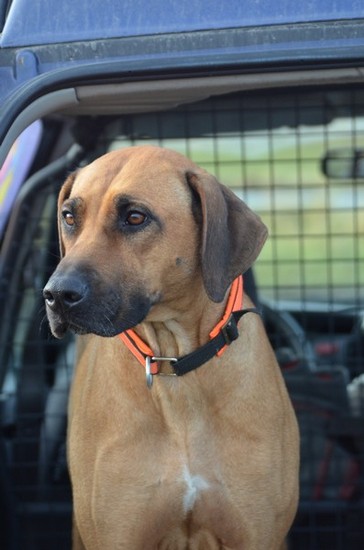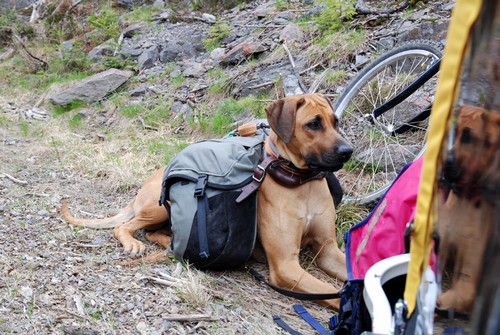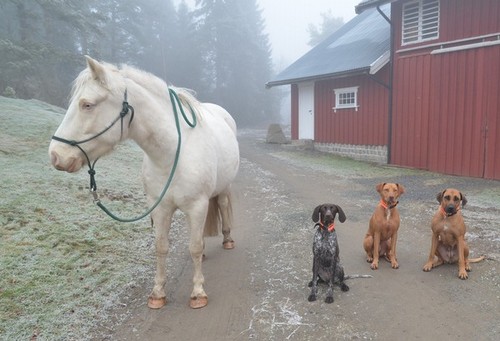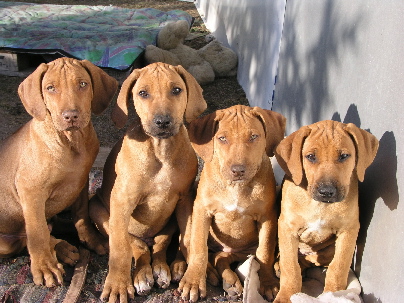 If you have entered this page through Google or other search engines, use the link below to get to our mainpage and have the full menu of choices.