News 2011: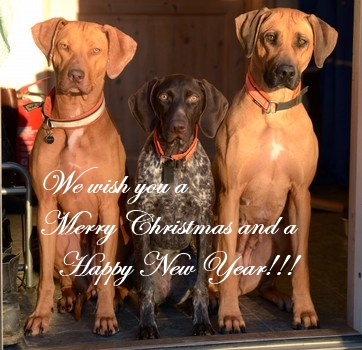 30.12.11 - I received a Christmas greeting from father of Bwindi-litter - Fåvne, 11,5 years old. See him here at his own photopage!
29.12.11 - BB has been to her first show, she behaved beautifully, with only two short days of training! Pics and critique here. Bisa from the Bwindi-litter had her show debut at the same show, almost six years old ;-) She behaved just as nicely and was superbly handled, and was awarded a Good today. Pics here. New photo of gorgeous Bintidaughter Fanana here!
25.12.11 - Some pics from our Christmas walk here!
22.12.11 - To all our friends and family - Merry Christmas and A Happy New Year!!
21.12.11 - Pics from yesterdays walk in the woods here!
18.12.11 - New pics of Zoë in her album! New pics of the huskypups here. And someone requested pics of the cats, so I have gathered some of our past and present kitties here ;-)
15.12.11 - A couple of pics of the pack here!
06.12.11 - New pics of Bintiyes daughter Faraja here! Thank you for sending me pics, I love to find "puppypics" in my mailbox! ;-D
05.12.11 - I'm very pleased to announce that Etanas x-ray results are back; as the first of the Etoshalitter - hips and elbows with the best possible result - A!
02.12.11 - Bintiyes DM result came back clear! She will have her second litter spring 2012, see more here.
30.11.11 - Some pics from today here.
30.11.11 - Updated the planned litters page with the Norwegian version of the text, both for the Garambalitter and the Hwangelitter.
26.11.11 - We have been to the Norwegian Winner show in Lillestrøm, and Etana won a large junior class and is now titulated NJV-11 Hunting Prides Etosha Etana! In the best bitch competition she placed as BB4, and Sheriff, father of our coming litter placed as Best Male 4, a super day for all involved ;-) Pics here! Critique will be added.
25.11.11 - Zoë, Dhamira, Su and I have been to Sweden for some bird training for the pointing dog ;-) Pics here!
21.11.11 - I found some old pics from a kennel meeting with dogs from Bwindi-, Chyulu- and Dodorilitter, see them here! And a new album of golden oldies here ;-) The album of Ridgebacks as sleddogs is added to our photoalbum page.
18.11.11 - Some pics from today here!
17.11.11 - Not that she really needs it yet, and by the time she really needs it in January it won't even fit any longer (but hopefully an ordinary dog coat will fit by then); still I have created this for Zoë..
13.11.11 - We received some photos from today of Bintiyes new stud to be, see them here! More about the litter here.
12.11.11 - Some pics of the huskypups and the other dogs here!
11.11.11 - I downloaded some pics from my cellphone, see them here!
27.10.11 - I received some photos from Egamisha when hunting elk, you can see them here!
26.10.11 - We have a new addition to the kennel, little BB will be living on breeding terms but owned by us. She is a wonderful little pup, after the few first days she has settled in very well and didn't mind train, airplane, car, cages, huskies, kindergarten or all the other new things we threw upon her. We're excited to get to know her! Pics and info here.
18.10.11 - I just got a report from Egamisha, she has the past two weekends tracked two elks for her owners and their hunting team and is applying for membership in the Norwegian Elkhound studbook ;-) If not approved, she is at least a real member of the Hunting Pride, ridge or no ridge!
09.10.11 - New pics of the father to be of Evitas 2012 foal here!
05.10.11 - We have huskypups! Com has given birth to six pups 62 days after mating with Indy, her largest litter and she had us fooled by her size ;-) Pics here!
03.10.11 - Two thirds of the family spent a slow weekend on the cabin in Valdres, without tap water or electricity (well, there are solar energy), pics here!
25.09.11 - "Puppymeeting" for the Etoshalitter, 14 months old, and the Farolitter, soon 6 months old. Pics here!
24.09.11 - New pic of Bintiyes lookalike, drop dead gorgeous daughter Fanana here!
21.09.11 - I'm sorting out in the office, and found some pics from the Norwegian Ridgeback Specialty show in 2007, of Bintiye and Aisha. See them here! New pics of Egamisha here!
20.09.11 - Miscellaneous pics from Etana and Isacks visit here.
19.09.11 - Etanas critiques and photo here! New photo on her page as well.
18.09.11 - Etana BOS with her first CC today!! Hopefully we'll have some pics tomorrow, with the critique ;-) I'm very happy for Ann Kristin and a proud breeder! I have found another batch of golden oldies here.
17.09.11 - Some pics of the dogs here! Etana Exc and JKK2 today.
09.09.11 - Etanas testresults for DM has come back, and she is clear!
07.09.11 - The gallery is now updated with all pics from 2011 ;-) Finally!
05.09.11 - Some horse and hound pics here!
02.09.11 - I got a wonderful mail from Diwanis owner, describing him as the best big brother ever for her daughter. He is the most tolerant, extremely steady, kind, loving dog, especially fond of children as all his siblings and also his nieces and nephews in the Etoshalitter. I'm very happy both for them and all the other owners of Dodori dogs! New pics here. A new pic of his sister here as well - one of her first encounters with Su :-) Love at first sight!
02.09.11 - Sir Cisco, sire of the foal to be born in 2012 has won his division in the Bundeschampionat in eventing, and ended as #2 totally. We're impressed - but knew that this is a very special stallion!! Huge congrats to owner Lillian Strand and rider Inger Bugge for this great achievment!
30.08.11 - We got a pic of lovely Fanana, learning how to walk with rucksack on her back, here!
20.08.11 - Dhamira Exc and #3 in open class bitches at Bjerke, critique here! New pics of our gorgeous ridgeless Ekundu here! Pics of the dogs in the dogyard here.
14.08.11 - Zoë participated in her first puppy show today and was beaten by her sister and cousin, but behaved beautifully and her critique was very nice. Read it here!
09.08.11 - New pic of gorgeous Fanana!
01.08.11 - New stacked photo of Zoë, four months old!
31.07.11 - We've had a wonderful summer, pics from it here!
28.07.11 - Since Su is spending her holidays with grandma we have had a substitute-baby over for the night. The dogs obviously misses their twolegged sister, so they were pleased to have a new friend! Pics here.
25.07.11 - We had Etana here for a visit and took some pics of her and her mum - here!
24.07.11 - Some new pics of Evita here.
23.07.11 - I've just arrived back home from a wonderful week with SBK Skåne, where I have been trained as figurant (B and A) for mentality assessment (MH) of dogs.Thanks a lot guys! This beautiful week came to a tragical ending by the terrible massacre in Oslo and Utøya, and my thoughts go out to all those who were there and those who have lost beloved ones.
27.06.11 - New pics of lovely Chetu, 4 years old!
19.06.11 - New pics of Nader (Emeka) here!
17.06.11 - New pics of Enzi, Etana, Faraja and Fanana!
13.06.11 - We have had a very busy weekend, pics of the garden project here (bottom of page), info about the planned foal here and some new pics of Evita here and Zoë here!
05.06.11 - Some pics from our weekend here!
28.05.11 - I got some pics of Isack (Donjuan) and Selma (Etana), photographer is Elisabeth A. Moseby. Enjoy!
21.05.11 - Iza and Dhamira has met the mechanical bear, and the results were mixed, but much as expected. Iza is our very tough girl and she wasn't very impressed by this bear, barked some at him at first, but lost interest when he didn't behave as a "normal" bear (he moves back and forth on a string, and can only move 360 degrees around himself). Dhamira was very interested at first, and had very little aggression towards him and a more friendly and curious approach, but when he didn't respond to her she was a bit more insecure and wanted me to show her what to do next ;-)
02.05.11 - We had Donjuan/Isack and Etana/Selma over for a visit and took some pics, of the three here and new stack and headshot of Selma here.
30.04.11 - More mixed pics!
29.04.11 - Some mixed pics of our sweet ridgegirl, pics of the others will come tomorrow!
25.04.11 - Finally new stacks of the Farogirls at 6 weeks - not the best I've done, but still.. Check them out here!
18.04.11 - I'm afraid there will be no 5 week stacks of the Farogirls, as we have been spending all weekend with birthday celebrations and the pups are now visiting Bintis real parents for a few days. But here are some mixed pics from last week, enjoy!
14.04.11 - New pic of Chambo, four years old!
10.04.11 - New stacks of the Farogirls here!
09.04.11 - Some new pics of the garden project here!
08.04.11 - We still have two ridgebackpuppies for sale, one ridgeless and one with multicrowns. Pics from todays journey outside here! They are very laidback these three, have no worries (except for the temperature, they found it a bit chilly in the wind ;-)) and takes to new things remarkably quick!
06.04.11 - Some mixed pics here!
03.04.11 - Stacks of the three week old Farogirls here!
29.03.11 - Mixed pics of all the Ridgebacks here! (Even Evita cut in on a corner ;-))
27.03.11 - New mixed pics of the Farogirls and the other girls here!
22.03.11 - New pics of the Farogirls individual here and mixed here!
21.03.11 - Silver medal in the World Championship! Pics here.
19.03.11 - We're racing in the World Championships at Hamar, so few updates during the weekend I'm afraid! But we've met up with Bintiyes sister Bisa, thanks a lot Malin for meeting us today!
16.03.11 - Pics of the grown up girls here!
15.03.11 - Individual pics of our Faro-girls here!
14.03.11 - More pics of the girls here!
13.03.11 - Well, after a long delivery, there was 7 puppies in total. Due to either the duration or from poisoning of one pup that was dead/miscarried, 5 of the pups was stillborn, we managed to revive one. More about the litter here. After many litters with almost only boys we finally have a litter with mainly girls, unfortunately only three of them here with us. They whole litter had very bright colours, black masks but no black extending the head, nearly no white except the multicrowned girl that lives, she has some white on toes and in the chest, and two others with small white chest patches. No DS, no kink tails. It is very sad that we won't have any breeding material from this litter, so I hope to be able to get a Rebel-daughter from one of the planned combinations with him as he is a male with outstanding qualities!! Pics here!
06.03.11 - New pics of stuffed Binti at planned litters page!
05.03.11 - Etana and Donjuan came to visit, pics of the dogs here and new stacked photo of Etana here!
04.03.11 - This is how we're watching tv around here ;-)
03.03.11 - New pics of Ekevu and Emeka at their pages!
27.02.11 - New pics of Binti, shaped as a pear, here ;-) And a frontpic, of a not obese but very pregnant dog..
24.02.11 - New pics of Evita here!
18.02.11 - New pics of Binti at the planned Farolitter page! It's not as evident on photos as in real life, but she really has no waist at all ;-)
17.02.11 - Binti is starting to get heavy and is enjoying her pregnancy, fresh pics will come soon!
14.02.11 - New pics of Ekundu on his page!
13.02.11 - Etana BOB today as well, she was picked for BIS (group finals were skipped) but not placed among the top four.
12.02.11 - Etana BOB puppy at her second show! Critique here and some new pics at her page.
04.02.11 - New frontpic of Iza in her new creation, made for us by Øvrevoll Hestesport AS. Looks great, just matching the Newmarket Goldstripe blanket Evita wears in cold weather, so now the two can trot besides eachother in their dresses ;-)
02.02.11 - Binti is confirmed pregnant by ultrasound scan, there was lots of puppies!! We're very happy and look forward to see this litter born mid March!
01.02.11 - Pics of Iza, Dhamira and Less (Egamisha) here!
29.01.11 - New pic of Enzi, 6 months old!
28.01.11 - Finally the rest of the pics from Alpen trail here!
25.01.11 - 1st place in the Alpen trail 6 dog class!!! Pics and report will follow very shortly.
09.01.11 - Yesterday, I flew Oslo-Frankfurt-Prague-Frankfurt-Oslo to collect Rebels fresh semen and Binti was inseminated with lots of fast swimmers today. The fine veterinarian Dr Ragnar Thomassen arranged for 9 female puppies and 3 male puppies in her uterus, and they will be born mid-March ;-) Fingers crossed!! More info about the parents to be here!
Bjørn has arrived near the start of the Alpen trail arena and Sunniva and I are following by plane and train later this week. Left behind in good care is the four youngsters and their mother, plus the Ridgebacks. Super thanks to Bjørns mother and brother for taking care of house and huskies and Mona and the Skjønhaug family for letting my two prescious be your houseguests while we are gone! Pics of the "leftover dogs" here ;-)
02.01.11 - New pics of Evita from today!
Older news 2010 ( 2009, 2008, 2007 -->)